Graham Reid | | 2 min read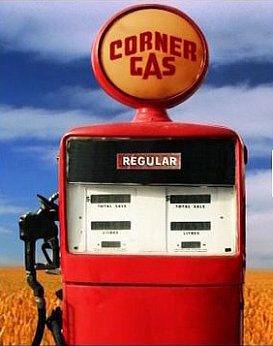 It is a peculiar thing that Corner Gas -- a wry, understated and very droll Canadian comedy series -- isn't screened on New Zealand television. It has many similarities in its humour to that of Flight of the Conchords, not the least in its gentle wit, the slightly confused and often naive characters, and the similarity between what Canadians feel about America and New Zealanders feel towards Australia.
Corner Gas has a simple premise: a small cast in a small town somewhere in the vast flatness of Saskatchewan where life revolves around a diner -- The Ruby run by Lacey (Gabrielle Miller) from Toronto who has inherited it from her aunt -- and the gas station-cum-corner store run by Brent (comedian Brent Butt who conceived the series.)
As with smart and well written programmes such as Cheers and Taxi, the ensemble walk through misunderstandings and minor incidents which preoccupy the town's inhabitants: the big issues here are difference between a flinch and wince, and a local attraction is a pile of lumber.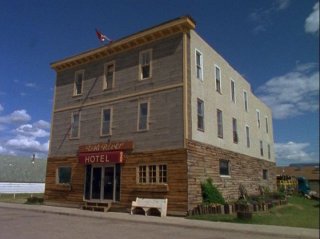 The town of Dog River (the outdoor shots were filmed in Rouleau, which looks temptingly quiet) is also a character: the wide empty streets, the wide plains of grass reaching to the horizon, the wide blue sky, the tall narrow buildings which stand alone in the wide landscape . . . Space is everywhere here, and sometimes between the ears of the characters.
The ensemble is neatly balanced: sardonic and smart Wanda (Nancy Roberts) who assists in the gas station; Brent and Wanda's former school friend Hank (Fred Ewanuick) who appears unemployed and certainly unemployable; Brent's irascible parents; and two local cops who compete with each other for innocent stupidity.
A feature of the series is how some of the same lines are repeated from the mouths of different characters in different circumstances, the gentle humour in which no one is hurt but plenty of characters take offence, and casual observations of the kind which never concern us until someone raises it: Why doesn't anyone use metric when giving their height, why is "catsup" pronounced "ketchup" and so on.
Nice use of language too: quaint words like willy-nilly, somesuch, tomfoolery and jackass (the closest to profanity the show gets) are bandied about.
There are occasional guest spots by famous Canadian names (the rock band Tragically Hip use Brent's garage to rehearse, an ice hockey player makes a low-key and self-deprecating appearances, actual Canadian prime ministers drop by), and plenty of in-jokes (Brent's band Thunderface only ever play Capital Cash, a song for the group Fast Exit which Butt played in before he got into comedy).
Corner Gas was huge in Canada but only has a cult following beyond there.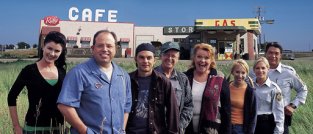 But it is certainly worth discovering on DVD.
The six series of Corner Gas screened in Canada between January 2004 and April 2009, but they are now coming out on DVD. And are highly recommended.
Not a lot happens in Dog River -- just as not a lot happens in Flight of the Conchords -- but as theme song says: "You think there's not a lot going on, look closer baby, you're so wrong. That's why you can stay so long, where there's not a lot going on".