Graham Reid | | 3 min read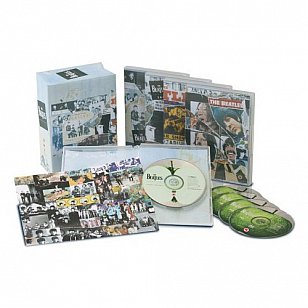 For a record company it was the cross-marketing opportunity of a lifetime. Well, maybe a lunchtime. But it seemed an uncanny coincidence that Neil Innes -- aka Ron Nasty of the Beatles-parody band the Rutles -- was in Auckland last week just days before the Beatles' remastered, digitally enhanced, but-wait-there's-more Anthology series was released on DVD.
If it was me I'd be out there flogging the Anthology in a package deal with the Rutles' hilarious All You Need is Cash rockumentary. Although maybe -- even in these days of strange television news -- simultaneous truth and fiction might have confused the marketplace.
The Beatles' biographical Anthology doesn't need much help, however, although those who bought the $250, 10-hour, video version six years ago -- expanded from the three-hour television series -- might be miffed the five-disc DVD set with extra footage retails at a comparatively cheap $150.
It wasn't unexpected, and here it is: the original 10 hours sonically and visually enhanced with 80 minutes of interesting footage from the mid 90s on a separate disc, which opens with McCartney, Harrison and Starr sitting on the grass at George's estate, reminiscing, strumming ukeleles (Harrison's favoured instrument late in life) and exuding such bonhomie you'd think there had never been such a thing as a cross word, let alone litigation, between them.
It is heartwarming: Ringo acts naturally; Harrison (the least attached to the Beatles legacy) is in excellent humour and enjoying the get-together; and McCartney is ... well, he's McCartney - camera-conscious, slightly uncomfortable, nervous even.
They also play Raunchy, the minimal Bill Justis tune a teenage Harrison played to McCartney and Lennon, which so impressed them he was immediately in the band. There's a discussion of how the Anthology came together with Beatles' sidekicks Neil Aspinall and Derek Taylor.
Producer George Martin and the remaining Threetles discuss their recording process and listen to songs such as A Day in the Life, I'm Only Sleeping and Tomorrow Never Knows. They are slightly mystified by how they did them and who played which instruments.
Producer Jeff Lynne talks about recording Free as a Bird from the late Lennon's demo, and Ringo and Macca say how much more difficult their other post-John Real Love was because it was a complete Lennon song into which they could have so little input.
Free as a Bird director Joe Pytka talks about how that remarkable video came together, and the clips for both post-Lennon videos are included.
The superb Anthology set, even without this extra footage, is the starting point for the mildly curious or Beatle aficionado, but the extra hour shows what a nice guy Harrison could be - when he wasn't acerbic - and deserving of all the tributes which flowed on his death 16 months ago.
The man gets a touching acknowledgment on the new Ringo album. Yes, there's a new Ringo album, despite no one requesting it.
Starr's recent career has taken the form of touring with his revolving line-up All Starr Band (Joe Walsh, Peter Frampton, Springsteen guitarist Nils Lofgren, Eric Carmen, Randy Bachman and others) and often making an embarrassing botch of some great Beatles songs. (You really don't need to hear his version of Love Me Do on Vertical Man.)
His new album Ringorama has plenty of Rutle-like allusions to his former career: the opener says "Remember when I said, 'It don't come easy"' -- a reference to his early-70s hit single; English Garden sounds like he'd just listened to McCartney's Let 'Em In; and guest vocalist Willie Nelson mentions Yesterday in Write One For Me, the title of which might have been Starr's plaintive cry to Lennon-McCartney during the 60s.
Starr being Ringo, he's never short on the guest list. Ringorama includes Pink Floyd guitarist Dave Gilmour, Eric Clapton, jazz bassist Charlie Haden, Shawn Colvin and arranger Van Dyke Parks.
His cleverly titled Harrison tribute Never Without You is genuine and heartfelt.
Harrison gets a whole tribute album on Songs from the Material World which, mercifully, isn't a roundup of the usual suspects like Tom Petty, Bob Dylan, Jeff Lynne and so on.
With former-Kink Dave Davies (Give Me Love), the Smithereens (I Want to Tell You), the Who's John Entwhistle (a late entry, we might say, with a throaty, upbeat Here Comes the Sun), plus Wayne Kramer and They Might Be Giants (a droll, downbeat Savoy Truffle), there is at least the enticement of the unexpected.
Unfortunately the song choices favour Harrison's Beatle years by three-to-one, and the artists - aside from Leslie West who brings Jimmy Barnes' vocals to the formerly country-flavoured Old Brown Shoe - follow too faithfully in the footsteps of the master. Disappointing and - given Sonic Youth once did a cracking Within You Without You, for example - a more adventurous tribute waits to be made.
But there it is, a hats off to Hare Georgeson.
Add to these Beatles-and-beyond releases the McCartney album Back in the World - a live document of his world tour similar to his recent Back in the US tour memento - and thirtysomething years after their break-up it's very expensive being a Beatles completist.
What was the title of the Rutles rockumentary again?