Graham Reid | | 3 min read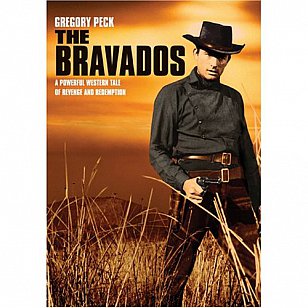 The early years of the 21st century saw a revival of gritty, realistic and unglamorous westerns with morally ambivalent characters.
Clint Eastwood (of course) had set the tone in the early Nineties with Unforgiven; Kevin Costner and Robert Duvall resurrected the genre to great critical if not commercial success in 2004 with Open Range and that same year a gritty version The Alamo appeared; and Deadwood's cowboys and misfits were winning acclaim and a loyal following on HBO.
Behind these main players were a host of others great and small who recognised that westerns didn't mean "cowboys' (let alone "Indians") but were more about characters and locations on the periphery of conventional society.
Not for nothing do rock stars like to style themselves as "outlaws": like the band Bon Jovi from the "frontier" of New Jersey wrapping themselves in cowboy clothes, singing about being "wanted dead or alive" and Jon writing the music for Young Guns II. They were indicative of very large sub-genre in rock.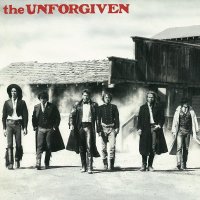 (And it's most shamelessly enjoyable as a sub-sub-genre, Elsewhere commends outlaw/cowboy rockers The Unforgiven to you whose sole album -- with song titles such as Hang 'Em High, Cheyenne, With My Boots on and The Loner -- cries out for a rediscovery).
For those with a feel for westerns which are about disaffected characters in an unwelcome but dramatic landscape (and less about goodies Vs baddies or gunplay) then the discount bins of DVD stores can offer real gems -- such as The Bravados with Gregory Peck and Joan Collins (1958) and Bandolero! from '68 with Jimmy Stewart, Dean Martin and (boasting the biggest hair in Tex-Mex territory) Raquel Welch.
Both films -- despite an extraordinary decade between them, think about it -- have a similar story: bad guys to be hung are busted out by a colleague posing as the hangman and they escape with a woman hostage (the largely voiceless and little known Kathleen Grant in the former, the busting-out-all-over Welch in the latter).
There is a pursuit into Mexico and great scenery (which looks like the Painted Desert and various bits of impressive Arizona in each).
Peck was always terrific in cowboy flicks (The Gunfighter of 1950 is right up there with High Noon) and in The Bravados he plays a man determined to avenge the rape and murder of his wife by those who have escaped the hangman.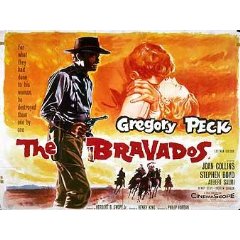 But as with The Searchers (of which there are echoes, and Eastwood had obviously studied it long before Unforgiven) there is a moral twist worthy of Hitchcock or The Sopranos.
Don't read the synopsis on the box but let the ending be a surprise. It's worth it.
Interesting, too, is the supporting cast in The Bravados where characters play against type: Lee Van Cleef (the bad in The Good, The Bad and The Ugly, and one of the gang in High Noon) here plays a snivelling coward; and Henry Silva who is most often a cold killer might be a bad guy but is also revealed to be a warm family man.
Stephen Boyd (usually a handsome leading man) is the leader of the killers.
The Bravados is, as it claims "a powerful western tale of revenge and redemption". (The redemption is bit corny -- and Joan Collins, even as a young actress, confirms hers was a career in which she might have been consistently outshone by a wooden cigar store Indian).
Bandolero! was written by the great Larry McMurtry (who later wrote Lonesome Dove among other things, and is the father of alt.country rock singer James McMurtry) and was shot on the same set as the original John Wayne Alamo.
It also involves a flight to Mexico -- and hostage Welch gets Stockholm Syndrome in the years before Patty Hearst's abduction by the Symbionese LIberation Army.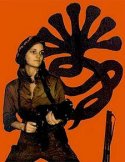 It too has actors in unexpected roles: Dean Martin and Jimmy Stewart are outlaw brothers (both slightly miscast), and loveable Will Geer (Grandpa Walton) is one of the gang. Welch is a Mexican.
Again there is twist at the end worthy of Glenn Ford's The Fastest Gun Alive . . . but that's another story again.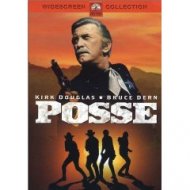 It's true that neither The Bravados or Bandolero! are in quite the same league as the original 3.10 to Yuma (Ford again, in '57) or even it's excellent 2006 remake (with Russell Crowe and Christian Bale) which, incidentally are packaged together these days and at a decent mid-price.
Or maybe even The Posse (the Kirk Douglas and Bruce Dern classic from '75) . . . or the little known From Hell to Texas of '58.
But they certainly don't disgrace the genre.
Enjoy, pardner.
At budget price on DVD these days too.