Graham Reid | | 3 min read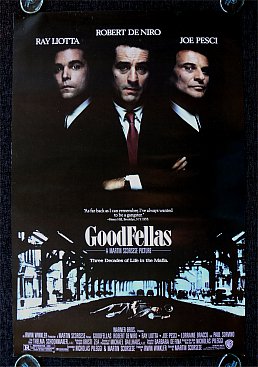 Within the ever-expanding genre of gangster flicks - from 1931 and James Cagney's Irish hood in Little Caesar to the quiet menace of Tony Soprano - there could never be consensus about the best Mob movie in any first-past-the-post system.
But Martin Scorsese's GoodFellas from 1990 would certainly take the prize in any single-transferable-vote selection. It is a classic.
From the disorienting opening scene - a buttock-clenching killing in which Joe Pesci as the maniacal Tommy stabs a tied-up guy in a car boot with a kitchen knife he borrowed from his mother - to the unravelling of lives through murder and betrayal, it is a thrilling journey through Mob life. And it is based on the true story of former made-man Henry Hill.
GoodFellas contains two astonishing scenes which are pivotal to the story and are studied in film schools. Early on, Hill (Ray Liotta in the role of his career) takes his girlfriend Karen (Lorraine Bracco) to the Copacabana nightclub.
In a single, constantly moving, tracking shot which lasts almost three minutes they cross the road, avoid the queue outside and enter the club through a back door, down the stairs and through the kitchen, come into the restaurant, are waved to a front-seat table which appears as if on command, settle down with drinks which arrive courtesy of friends, and sit down to watch comedian Henny Youngman ("Take my wife").
It is an image of the power, access and the status the wiseguy has.
The Mob gives its members their identity, even it means they have to live with a funny name: in GoodFellas we meet Fat Andy, Freddy No-Nose, Nicky Eyes and Jimmy Two-Times.
The other extraordinary scene comes much later and is the flipside of the good times for GoodFellas.
Hill is wired-up, trying to cook dinner, sell coke, pass off guns, pick up his brother from the hospital, and avoid a police surveillance helicopter. This emotional chaos comes with a thrilling collage of music book-ended by Harry Nilsson's desperate Jump Into The Fire, and includes dirty Rolling Stones (Monkey Man), earthy old blues (I'm A Man) and airy pop (George Harrison). It is an exciting evocation of coked-out reality and it's almost a relief when it abruptly ends when Hill has a gun shoved into his temple.
GoodFellas is an exciting story and also a film fans' film. Scorsese uses every technique available - from freeze-frame, slo-mo and sudden zooms to Hill's voice-over which opens with the wonderful assertion, "From as far back as I can remember I always wanted to be a gangster".
His final line, when he warily engages the eye of the camera, comes in an anonymous suburb where he now lives on a witness protection programme: "I'm an average nobody. I get to live the rest of my life as a schnook."
GoodFellas traces this great dramatic arc, the rise and fall of a wiseguy, and along the way there is humour, great clothes, beehive hairstyles and horrific and sudden acts of violence, notably from Pesci.
Pesci, like Liotta, playing a role that would define his career, is the most terrifyingly unpredictable character in a great cast which includes Robert De Niro and Paul Sorvino.
Along the way are players who would later turn up in The Sopranos as Christopher Moltisanti, Dr Jennifer Melfi and even Big Pussy (for about five seconds).
The special edition double disc DVD comes with excellent mini-features about the making of the movie. There are interviews with Scorsese, Pesci, De Niro, Sorvino, Liotta, co-screenwriter Nicolas Pileggi, and others. There is also an insightful segment with author Hill, whose authentic voice came through so powerfully in his book that it gave the raw material for the voice-over.
But those extras - fascinating though they might be - are one-watch, maybe two-watch, items which flesh out the back-story. Hill says it might all have looked glamorous but he lived in fear every day of his life.
It is the 140-minute movie with an enthralling soundtrack - from Italian balladeers and opera to doo-wop and pretty pop - which sweeps you along.
The appeal of being a made man - being a part of something, as Hill says - remains true today. You see it in the swaggers in New York's Little Italy.
Of course Scorsese also romanticises and the film is a lot of surface sheen: great clothes, cool cars, good looking men and women and so on. For a more grim and realistic look at gangster life today as it is actually lived, then Gomorrah set in southern Italy is the necessary corrective for anyone tempted by Scorsese's glam. It is brutal.
But as a primer on Mob life Goodfellas is an important and useful document: You'll learn never sit in the passenger seat if a wiseguy gets in the back.