Graham Reid | | 1 min read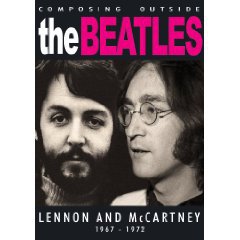 While you might think there is little left to be said about the Beatles after the break-up and their subsequent solo careers, the narrow and deep focus of this two hour doco is surprisingly interesting.
By just taking that period when Lennon and McCartney were starting to go their own ways, and pulling on the handbrake before Wings really took off, you get a real insight into just how different they became in such a short period.
What elevates this too is the intelligent talking heads -- notably Klaus Voorman who had known the Beatles since Hamburg days and played on early Lennon solo albums. He brings an almost clinical but bemused tone, and although writer Johnny Rogan insists on wearing dark glasses in a dark room (he looks like that Bee Gee), he along with Wings drummer Denny Seiwell, writers Robert Christgau, Anthony DeCurtis and others, and Lennon drummer Alan White all have intelligent and clear-headed things to say.
And the video footage of Lennon and McCartney at work and play is superb, much of it previously unseen even by hardcore Beatle fans is my guess. The fiery politics of Lennon at this time makes for gripping viewing, and there is terrific live footage too.
No one makes excuses for Lennon's solo indulgences (the Imagine album with its peace'n'love but bitter swipe at McCartney) or McCartney's wimp-pop (which rather undercut the message of his rare foray into politics on Give Ireland Back to the Irish). The musicians who were on hand have no reason to hold back, least of all Voorman (who also did the Revolver album cover).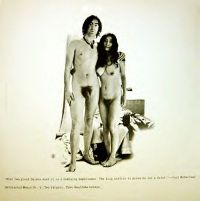 But from Lennon's experimental work (from Revolution 9 through the albums Two Virgins, right, and so on) and McCartney's tentative return with McCartney then Wild Life, the story is told with attention to detail, given fair interpretation and pulls in the historical context just enough to make it interesting for those who know nothing of thios period of strained relationships and sometimes even more strained music.
Is there much left to be said about this period when the Beatles broke up?

Indeed, the most successful solo Beatle for a while there -- chart toppers and movies -- was actually Ringo. So when does he get his equally analytical DVD?