Graham Reid | | 2 min read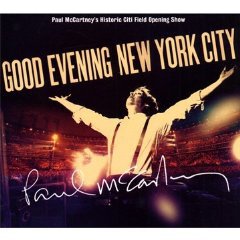 After a decade of exceptional diversity on disc -- it started with the left-field Liverpool Sound Collage, there was the remix album Twin Freaks, another album as The Fireman as well as a classical thing and some straight-up Macca-rock albums -- it seems a shame that McCartney should end it in such a predictable manner: a double live.
This however has been his pattern: live albums have been spotted into his career with alarming frequency (in time for Christmas or at the close/start of a decade) and that Beatles back-catalogue has increasingly taken up the bulk of the set.
This one was recorded over three nights at the opening of the new Citi Field Stadium (next to the demolished Shea Stadium where the Beatles famously played in '65 and unwitting launched stadium rock). It has 20 out of the 33 songs pulled from the Beatle Years, including his tributes to Harrison on Something (starts on ukulele and then gets the full treatment) and to Lennon (by working in Give Peace a Chance into A Day in the Life) and also I Saw Her Standing There with Billy Joel.
He kicks off in terrific style with Drive My Car (from Rubber Soul) and Jet (Band on the Run) and then one of the best from his last McCartney studio album Memory Almost Full, Only Mama Knows.
When McCartney rocks out there is still no denying the power of his voice (later he also delivers his largely overlooked classic Little Richard moment with I'm Down) and although he has lost a little in the top and bottom he can still belt them out with exceptional oomph.
His weaknesses are more revealed in the ballads (The Long and Winding Road, Blackbird) but he delivers a wonderfully moving treatment of Here Today (written for Lennon after his murder) and a very persuasive A Day in the Life (with perfect Ringo drum fills from whomever, the band go uncredited on the cover).
The DVD is of course not only state-of-the-art film and sound (mixed by Geoff Emerick) but lets you get a sense of what an event this really was: he mentions the Beatles at Shea a couple of times and when they do I'm Down it is intercut with the Beatles playing it there; he actually chokes up doing Here Today; there is footage from the Beatles Rock Band game; Joel gets a massive hometown welcome (he had closed Shea and Macca had joined him onstage then); there are cutaways to the massive and enthusiastic crowd which crosses all ages; Live And Let Die is accompanied by a spectacular fireworks display . . .
Stunning.
And McCartney -- who may be wearing a truss? -- gives it his all.
For the most part he and his musicians keep things faithful -- although they slip a nod to Hendrix onto a blazing version of Let Me Roll It. They also extend -- in stadium-pleasing style -- I Got A Feeling and Paperback Writer.
And his Sgt Pepper coda segues into the mini-suite of fragments at the close of Abbey Road and leads inevitably to . . . . The End.
As always he includes Beatles material which he hasn't offered on live albums before (I don't think Helter Skelter, I'm Down or Got To Get You Into My LIfe have appeared previously) but largely this covers some very familiar ground, much of it on his 2002 live outings.
That said, as with all Macca live albums, he delivers quite a punch beyond nostalgia. This is ridiculously impressive, more so from a man dangerously close to 70.
Another decade ends. And a new one begins?