Graham Reid | | 3 min read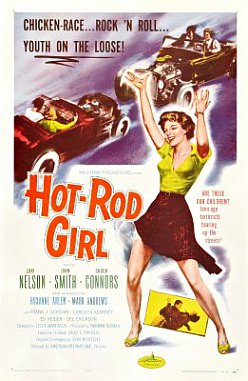 Souped up and modified cars, teens running wild in the streets striking fear into the hearts of citizens, booze'n'dope, loud music their parents hate . . .
It could only be the Fifties, right?
Anyone who thinks low-riders or boy racers smoking weed and playing pounding hip-hop on their car stereos are a new phenomenon need only look back in history to find precedents: in the mid Fifties there were movies like The Wild One (Brando as a biker), Blackboard Jungle (Rock Around the Clock the theme music as schoolteacher Glenn Ford battles high school punks, among them a young Sidney Poitier) and Rebel Without a Cause (James Dean playing chicken in a car, Sal Mineo with a knife).
Those were just the most famous films, behind them were dozens of others including Hot Rod Girl (drag racing teens) and High School Caesar (hot rods and death) of 1956, Date Bait (1960, heroin and jealousy), The Rebel Set ('59, beatniks, robbery, a hip coffee shop) and T-Bird Gang ('59, robbery and a killing).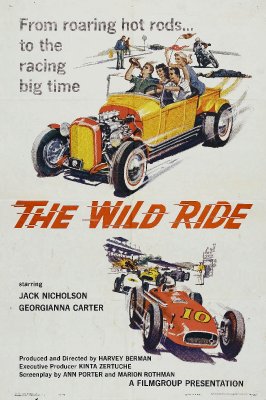 These were classic (actually not that classic) B-grade flicks which starred people who went on to less than illustrious careers. Most stayed on the B list with a few exceptions such as Ed Nelson from T-Bird Gang who played Dr Rossi on the television series Peyton Place, and Chuck Connors (the cop in Hot Rod Girl) who played famous cowboy characters on the small screen, among them The Rifleman series 1958-63.
Most others ended up in films such as Dragstrip Girl, Beach Blanket Bingo, How to Stuff a Wild Bikini, Hot Rod Rumble and Night of the Blood Beast. The titles tell you about as much as you need to know.
The most famous star to emerge from these juvenile delinquent movies was Jack Nicholson who starred as Johnny Varon, leader of a drag racing gang in The Wild Ride (1960). But as the liner essay to a new collection of these flicks Juvenile: Sinister Sons and Dangerous Daughters notes, "Nicholson went on to make many films worse than this".
Many better of course.
This collection of delinquent movies pulls the main ones mentioned above but of as much interest are the public service docos also included: Boy in Court (1940) shows the options other than locking up these kids and throwing away the key (probation) and Boy With a Knife (1956) looks at why some kids are bad and how patience and time and trust can help turn them into good American citizens -- which, incidentally, looks like a very boring option in films like Hot Rod Girl.
There are also the shorts Why Vandalism (1955) Act Your Age ('49) and Tomorrow's Drivers ('54). Cool cars. Huge cars!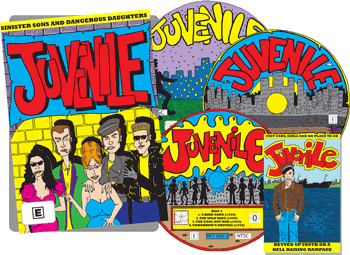 There is a charming simplicity to the notion of social rehabilitation, but that was part of the period and maybe it was even true. I doubt it work today, although you never know.
This collection (three discs, a booklet with backgrounders to the films) is a flashback to a more innocent time in many ways, although if you hauled the cars into the 21st century and added more colourful profanity you'd be recognising a lot of what passes for the current equivalent of "juvenile delinquency".
The weird thing is while the stories deal with the contemporary reality the soundtrack rarely matches what you think these teens might be listening to, it is mostly big band jive ("out there daddy-o") and not the rock'n'roll that had already emerged thanks to Bill Haley, Elvis Presley, Chuck Berry, Buddy Holly, Little Richard and others.
If you want to hear the soundtrack to the JD era then flick to the Loud Fast and Out of Control box set and check it out.
Most of these films move at an almost paralysingly slow pace (even the hot rods in some cases) but it is kinda nice to be in that era when one punch would knock someone out, a guy could slap and a girl and feel okay about it, and guns were only ever used if you were within a metre of the person you wanted to menace or kill.
Simpler times, huh?