Graham Reid | | 1 min read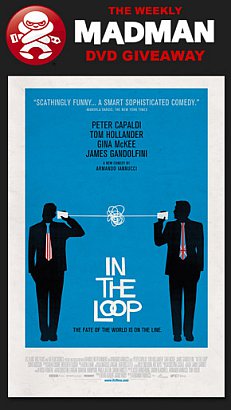 Watching John Grisham's political thriller The Pelican Brief the other night on television re-run, I was struck by how conspiracy stories about corruption at the highest levels of power conspiciously fail in one area: they assume the Evil Ones can maintain walls of silence around them and that there is no such thing as base incompetence and stupidity in the world in which they are set.
People, frankly, aren't that bright.
The corridors of power are filled with mere mortals not puppet masters who constantly speak in a stage whisper and never seem to sleep, let alone drink and shag around.
It is probably these people with many human failings which keep the ship of democracy more or less on course. They are the ones who accidentally blab to a journalist or sleep with someone who knows someone. Nixon was undone by clumsy burglars remember.
In the Loop is hardly a thriller -- although it is about the fearful highway to war in the Middle East on trumped up information -- but while it is a laugh-aloud comedy of sharp satire, high farce and epic in its profanity, it also speaks quite directly about the world we live in. A world in which former British PM Tony Blair looks to be called to account for his will to war in Iraq.
The story of In the Loop may already be familiar -- hapless British MP makes an inocuous statement which isn't quite the party line, the wheels grind, the machinery of Washington looms into the picture -- but it is how this is played out which makes it so compelling.
A movie-length offshoot of the UK television series The Thick of It, this hilarious but ultimately sad and chilling is like a much darker Primary Colours melded with Yes Minister and Dr Strangelove. It is about the art and craft of media and personal manipulation, and Malcolm Tucker (the PM's director of communications, played with vein swelling and foul-mouthed glee by Peter Capaldi) is the brutish master.
The story mixes the mundane (constituency concerns about a wall falling down) with power struggles in the UN and at times it seems even the most moving and pointed thoughts come with a punchline.
"This is the problem with citizens wanting to go to war," says American general George Miller in a reflective moment (James Gandolfini of The Sopranos). "Once you've been there, once you've seen it, you never want to go again unless you absolutely fucking have to.
"It's like France."
You wonder how that was dubbed in the French version.
War hungry Linton Barwick (David Rasche, formerly Sledge Hammer) offers, "You may not believe it and I may not believe it, but by God it's a useful hypocrisy."
Funny, sharp, but also terrifying in some respects.
As Tucker fumes at one point, "Where do you think you are, in some fucking regency costume drama? This is a government department not a fucking Jane fucking Austen novel."