Graham Reid | | 1 min read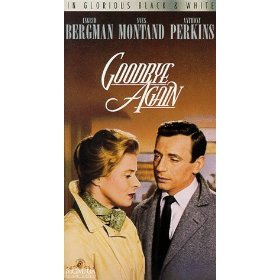 Based on Francoise Sagan's sorrow-filled 1959 novel of failed and tragic love Aimez-vous Brahms?, this adaptation with Ingrid Bergman, Yves Montand and Anthony Perkins won the latter a best actor award at Cannes for his portrayal of the young, spoiled and emotionally needy Philip Van der Besh.
Quite why Perkins should have been singled out is odd: his role in which he becomes obsessed with the older Bergman (playing Paula Tessier, a previously married 40-year old in a relationship with the serially unfaithful Roger Demarest/Montand) demanded much less of him than his part in Psycho the previous year.
Any attention properly falls on Tessier who -- like Van der Berg -- is also looking for love desperately and remaining hopeful her fiance (Montand is a believable roue) will marry her. At one point when torn between her growing affection for Van der Berg and Demarest she cries, "I'm old. I'm old."
At the time Bergman -- 44 in real life -- had lived through her scandalous affair with the filmmaker Roberto Rossellini (they were both married) and she clearly brought some of the agonies of that to her role. Hurt by her fiance, she embarks on a brief affair with Van der Berg who is emotionally volatile, desperate for the romance of love, and dismisses the affections and interests of his youthful peers in favour of her maturity.
In an interesting twist one of Demarest's young conquests offers the opposite opinion: she finds young men immature and shallow and prefers Demarest's cool poise -- although he wearies of her dangerous spontaneity very quickly.
As a woman caught in emotions pulling her in two different directions (marriage to Demarest but the knowledge he will betray her, being with the caring but emotionally unreliable Van der Berg) Bergman gives a finely understated performance made more believable by her nervous glances, shortness of breath and fleeting expressions.
There must have been the temptation by director Litvak (5 Miles to Midnight) to make her as glamorous in the film as she was in real life but, despite gowns by Dior, Bergman plays the role as a woman of her age, her beauty evident but sometimes shown to be fragile and fading.
This is a story of insecure lovers -- all three of them -- in a desperate time and has a universal and contemporary appeal.
Brahms is there for the backdrop of new love, jazz for the slightly sleazy Demarest who is hurt that she has been unfaithful to him).
Diahann Carroll appears briefly as a slinky nightclub singer reflecting on the nature of love (a commentary throughout by various characters) and if you look closely you may spot brief appearances by Sagan herself, singer Sasha Distel and (apparently) Yul Brynner.
But the real and painful story is told by Bergman in the smallest of gestures as the drama plays out against a Paris which sometimes seems deserted -- and far from the city of romance it has often been required to be.