Graham Reid | | 2 min read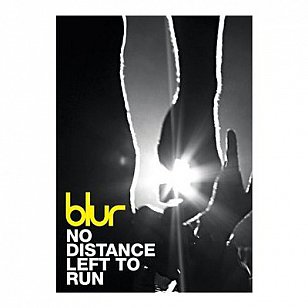 This beautifully shot, career-spanning, feature-length doco leaves a lot of threads hanging for those who didn't follow every nuance of the relationship between the four members of Brit-pop's Blur, and you certainly get the impression that guitarist Graham Coxon -- often a blitzkrieg of noise on-stage but nervous, reticent and slightly precious off -- was never a great communicator of his feelings. Not even now.
And therein lies the schism between school chums Coxon and Blur's assured and ambitious frontman Damon Albarn, whose sensitive side (which was to the fore when his relationship with Elastica's Justine Frischmann ended) came as a surprise to Coxon, a man who very much existed in his own head which was increasingly befuddled by alcohol.
Music aside, the story of any great band -- and Blur certainly enjoyed more than their share of great moments, especially if you were British and recoiled from imported American grunge -- is always that of its members. In that regard there is certainly a good story told here.
Taking their '09 reformation (nine years since Coxon quit, or simply didn't turn up) as the hook, this doco by Dylan Southern and Will Lovelace weaves the story of their formation and rise in between footage of them rehearsing and touring again. The interviews can feel intrusive sometimes and, typical English lads grown to be men, they still sometimes avoid saying what they want to.
In the recent footage they all -- drummer Dave Rowntree excepted -- look like Brideshead's Sebastian Flyte at his most dissolute. Coxon constantly scratches his head and pulls his hair like a half-witted boy, bassist Alex James still smokes constantly.
Some aspects are passed over lightly: the on-going feud with Oasis gets scant but amusing attention, and Coxon never quite says what was going through his head other than in the most general or oblique manner. James (always astute but preferring to quip rather than clarify) and Rowntree are somewhat reduced to bit players.
But as the arc of the film unfolds (with terrific live footage) there are more than enough times when you can see right into the heart of this band: when they were at their most dysfunctional and bored with it all, and when they were on top of the world and just four lads having a lark with their very best friends.
Then you can understand not just the group dynamic, but how it lead them to craft such great pop and rock.
It also has its very funny moments, notably when a bored James at the height of Britpop is obliged to do one soundbite after another for Japanese television and radio programmes.
But it is when they get on stage that the magic occurs and all else falls away.
The second disc here is of their Hyde Park concert in July 2009 and it is vindication of all that they put themselves and their fans through.
In retrospect much of Britpop (which was essentially Albarn's conception, songs referenced in British culture and drawing on the legacy of the Beatles, Ray Davies, Paul Weller and all the rest) was sometimes pretty naff and a media beat-up.
But when Blur took a left turn after that trilogy of Modern Life is Rubbish ('93), Parklife ('94) and The Great Escape ('95) -- ironically by embracing alternative music from America -- they not only saved themselves from a cul-de-sac (or more correctly, dead end street) but managed to create some of the most exciting British rock music of their era.
And that concert in Hyde Park -- which followed smaller gigs around Britain as seen in the movie -- proved that even in their 40s they could still deliver, and still had an audience.
Albarn has Gorillaz and other side projects, Coxon has done solo albums, James and Rowntree keep themselves occupied too.
But seeing them commanding that stage again with the past seemingly packed away, you can only hope they see more of each other in the future.