Graham Reid | | 1 min read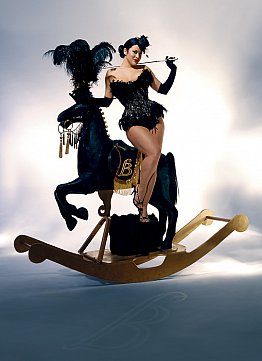 Well, if you can have an Olympic event on the parallel bars, why not on a vertical bar -- especially when many thousands of people across the world are dedicated to it. So why not pole dancing as demonstation sport at the next Olympics leading to official recognition as sport thereafter?
Well, here is why not.
Pole dancing is, like, just sooo last year's thing.
Burlesque is where it's at now -- and actually has been for a few years, especially since Marilyn Manson's former wife Dita Von Teese started taking into the mainstream.
Burlesque -- which dates back to early last century and beyond -- keeps the sex nice'n'sophisticated, titillating and all about the tease.
And that is what Immodesty Blaize (aka Kelly Fletcher from Hertfordshire) is all about in this interesting doco which is long on show footage (by her and others with terrific names such as Catherine D'Lish, Perle Noire, Michelle L'Amour, Kitten DeVille and Dirty Matini) but rather light on placing this into some greater historical context.
Yes, a few of the old performers are wheeled out -- that they look like carelessly made-up drag queens for the most part rather spoils the effect -- but there was perhaps some opportunity to dig a little deeper.
But my guess this is a showreel for Ms Blaize as much as anything -- not that she needs, she's coining it in.
So here are fabulous costumes, lots of strategically placed and removed feathers and fans, black corsets and a bit of cellulite, terrific props (the massive martini glass is something to bathe in -- as one does) and lots of badaboom-badabang music.
Marc Almond makes a cameo. It's that kind of film.