Graham Reid | | 1 min read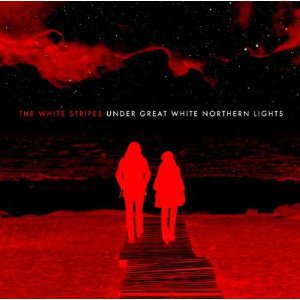 Since this 2007 doco was filmed of the White Stripes tour across Canada (with interesting digressions of shows done on the fly), Jack White has peeled off into other areas of interest: Dead Weather, Raconteurs, the movie It Might Get Loud, more production (tantalisingly with early rocker Wanda Jackson) . . .
Drummer Meg -- his former wife whom he here again refers to as his sister, keeping that mystique going -- has been much more quiet . . . and in fact her "quiet" nature becomes a briefly tetchy point in an interesting incident in Emmett Malloy's footage.
But given that Jack and Meg approved all this, that incident and the tears later may not be quite as revealing as they first appear.
But as a tour doco goes this is certainly closer to Wilco's Ashes of American Flags than Madonna's dishonest Truth or Dare, although the slipping between stage, back-stage, interviews and travelling through Canada's vast landscape can be frustratingly focus-shifting.
It is beautifully shot (sometimes in crisp b'n'white) and its best moments include the noisy shows but also a digression to an Inuit community where they swap songs with the locals. It is at its most up-close and interesting when they play for some kids in a rec centre, in a bowling alley, on the back of a boat, in a bus, in a local hall . . .
When the volume goes down -- and Meg speaks so low she gets subtitles -- the interest goes up and in these too-brief situations they come off as charming, curious about where they are and Meg reveals a rare ability, she seems to be able to smoke and sleep simultaneously. She remains inscrutable.
The accompanying CD is collated from these shows and is something of a rowdy greatest hits set which opens with them coming on stage to the sound of a bagpipe troupe then unleashing the full Led Zepp fury of power chords and Plant-like yelp on Let's Shake Hands before ticking off highlights and ending with the riffery of Seven Nation Army -- as sung back to the band by the audience.
It is a long overdue live album by this duo which delivers fury and sensitivity ( We Are Gonna be Friends) in equal measure. Pity more of the folk and blues songs from the DVD didn't make it onto it.
Given Jack's other interests it may just be that this document -- which comes in an expanded version with an LP, a single and a 200 page booklet of photos for the real fans -- is a full stop on the White Stripes.
My money says it isn't however, it is just another milestone along the way of a very interesting journey.