Graham Reid | | 1 min read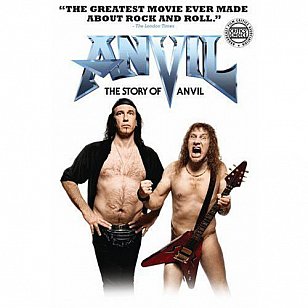 The story of this rock documentary -- or "rockumentary, if you will" -- is so soaked in parallels to the fictional Spinal Tap that you cannot help notice and mention it. But let's not because at heart here there is another and better story than a real life version of a parody.
Anvil is a great story of love and faith: the love of two men -- singer/guitarist Steve "Lips" Kudrow and drummer Robb Reiner -- for the heavy metal they make . . . and for each other. And the faith that, despite mounting evidence to the contrary, all will be well and they will continue on to greater and better things if they can just get that lucky break.
In regard to that last point, things could only be better than where we see them at the start of this insightful, generous and heart-in-mouth doco which will have you laughing and crying depending on what strange scenario is being played out.
At the start we are shown how Anvil, a heavy metal band from Canada who created a template for others with their album Metal on Metal, once shared bills with bands like Bon Jovi and the execrable Whitesnake who went on to greater things.
For Anvil it just didn't happen (might have been the Canada thing someone speculates) and so the film picks them up in 2007: Lips delivers lunches to schools and shoves his cart through ankle deep snow and Robb seems slightly damaged but an interesting artist.
They live with wives and kids and still get together to play -- and then they get an offer of dates in Europe.
From there on it is a journey into bad food and seedy venues, an incompetent but enthusiastic manager whose grasp of English and economics (not to mention train timetables) is woeful, of broken promises . . . and yet the promise of greatness still within their grasp.
It is a sometimes sad story but at heart their optimism and love for each other (despite huge fallouts, they are drawn back together) and a 13th album keep them going.
Some heavy-hitters (Lemmy, Lars, Slash and others) attest to how important they were musically, although footage of their early gigs lower the bar for stage wear. Hilariously.
To reveal how this ends would spoil the tension, but since this film appeared Anvil have had some kind of late career revival (Lips and Robb are in their mid 50s).
They deserve it. Few have shown such faith and love -- and sometimes misplaced self-belief, some of their songs are shit -- as these two men who you want to do well but would probably not want to have as dinner guests.
A terrific rock film, one of the very best. Essential even if hard rock means nothing to you, this is a story about the unbreakable human spirit that exists in some people.