Graham Reid | | 1 min read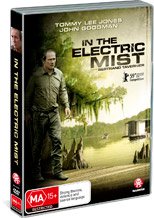 Based on the James Lee Burke novel In the Electric Mist with Confederate Dead, this serial killer mystery (with surreal time slips into a world populated by the ghosts of the Civil War) is set in the Cajun bayou swamps of Louisiana which, of themselves, add an air of uneasy stillness and mystery.
As detective Dave Robicheaux, Tommy Lee Jones pulls out a performance that seems to owe much to those he has made his signature. With flinty calm and latent power, Jones has walked these paths before, from The Fugitive and No Country for Old Men to his saddened and increasingly disillusioned character in the landscape of America coming to terms with a human cost of Iraq, In the Valley of Elah.
Here he brings that gravitas and sudden rage to a tight-lipped role of close-mouthed Louisiana drawl as he investigates first the death of a young hooker, then becomes involved with an alcoholic actor in town to shoot a film which is in part funded by the local thug-cum-kingpin Julie "Baby Feet" Balboni (an enormous and shockingly white John Goodman who is a man you don't want to share a swimming pool with).
And then there are the visions of the Confederate dead who walk this land trying to find peace.
John Sayles appears briefly as the film director, Buddy Guy as a knowledgeable local.
Passages from Burke's poetic novel as voice-overs convey some of the narrative thread but seem an intrusion (although could draw you to the book for the sheer conciseness of writing and their imagery) and although overlong and finding Jones inhabiting the skin of a character he has played in some version previously, In the Electric Mist is more than a mere diversion.
Not quite the magic realism that was once so popular -- mystic surrealism perhaps? -- but certainly a film in which the unresolved and the inconclusive mirror more truly the nature of life, existence and indeed criminal life than anything which is too neatly wrapped up.
But you will spot the bad guy and the rather too "oh, eerie"ending.