Graham Reid | | 1 min read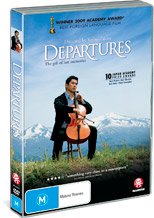 The on-going economic downturn in Japan -- which has seen thousands of salarymen laid off and emotionally adrift -- has lead to a number of films addressing that issue of dislocation and disruption in a society which had promised and expected conformity and security.
The beautiful Tokyo Sonata by Kiyoshi Kurosawa was a heartbreaking insight into the lengths one man would go to keep up the appearance of being employed, and his guilty secret from his disintegrating family.
This equally moving film -- which won the 2009 Academy Award for best foreign film -- looks at a not dissimilar situation when a young, newly married cellist Daigo loses his job when the sponsor pulls of supporting the orchestra. He and his wife move back to his small hometown and he applies for a job in a business which gives the film its title.
It gives nothing away to tell that the position isn't in a travel company, but is as a funeral celebrant who also prepares bodies. He keeps the position a secret from his wife, but cannot for too long.
Moving and yet at times peppered with necessary humour, Departures is a quiet film where emotions are often to be read rather than said, but as Daigo takes an increasing pride in his work then as his wife becomes gradually alienated a very real human drama is acted out against sometimes very beautiful rural (and rather ordinary urban) backdrops and the pain of families at an emotional pivot in their lives.
Beautifully crafted, emotionally understated and with sympathetic performances, Departures is an exceptional insight into culture, and people's lives when it crumbles.