Graham Reid | | <1 min read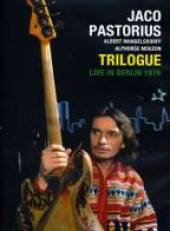 The tragic story of bassist Jaco Pastorius (1961-87) has been told in depth at Elsewhere (here) but this concert film from '76 -- with avant-trombonist Albert Mangelsdorff and drummer Alphonse Mouzon -- captures him before the rapid decline through drink, drugs and neglect.
In Weather Report, Pastorius's style often headed towards jazz-rock fusion and even funk, but here -- with Mangelsdorff reining in his free-jazz tendencies and Mouzon playing a straight bat - we see another side of Pastorius on material (mostly by Mangelsdorff although Jaco's Portrait of Tracy is included) which was complex and offering enough space for improvisation, but was also somewhat constrained and carefully planned in advance.
This concert -- now on DVD for the first time -- came at an especially good time for Pastorius: he was achieving acclaim through Weather Report; had recorded an album under his own name for Columbia; had worked for the first time with Joni Mitchell (her comments about Jaco made after his death are extensive on the liner notes here) and he was a huge star in the jazz world.
That said, an hour-long live concert of trombone, electric bass and drums (even as crisply filmed as this) is a hard call even for many dedicated jazz listeners . . . so this is best recommended to those who know some or all of the players here pretty well.