Graham Reid | | <1 min read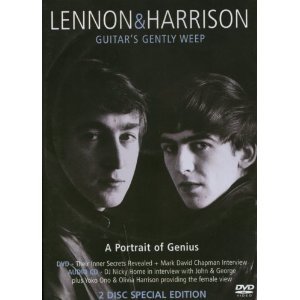 Although this DVD and CD set is beautifully packaged -- classic cover photos by Astrid Kirchherr, thick and lavishly presented biography book -- it fails to live up to its claim of exploring the (often tetchy) relationship between these two men.
The 55 minute DVD notes that the relationship between Lennon and McCartney has been much analysed, but this one hasn't. However thereafter the film -- relying on much seen, and in better quality, footage -- simply recounts the separate lives of Lennon and Harrison (notably their political and spiritual views) to their sad conclusions.
Little is explored of their relationship to each other -- and oddly enough much of the music drifting away in the background comes from the Beatles early period and what wafts up is often McCartney's songs.
While My Guitar Gently Weeps and All Things Must Pass, Lennon's own guitar style and their personality clashes -- there was a physical fight in the studio in the closing overs of the Beatles' career -- go largely unmentioned.
The CD is made up of undated, non sequential -- and sometimes gauche -- radio interviews with Olivia Harrison (after the DVD release of the Concert for Bangladesh a few years ago), Yoko Ono (about a year after Lennon's murder perhaps), Harrison (some solo album, but very interesting) and, according to the cover, John Lennon and Mark Chapman who pulled the trigger on him . . . although I couldn't find those last two.
So a shallow pastiche, albeit in superbly enticing packaging.