Graham Reid | | 1 min read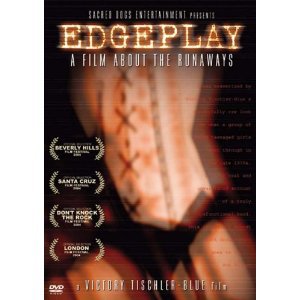 Clearly timed to ride the coattails of the film The Runaways about this seminal all-girl band of the the Seventies which launched the careers of Joan Jett and Lita Ford and (based on the memoir Neon Angel by lead singer Cherie Currie), the re-presentation of a doco made by the band's former bassist Vicky Blue should be an object lesson in just how exploitive, abusive (emotionally and physically) and uncaring the music business can be.
Put together by the odious Kim Fowley, the five girls in the group were in their mid teens and were promised fame, stadiums to play in and lots of money. What they weren't told is that the fame might come, and the stadiums too -- but only after a slog through seedy clubs and small halls -- but the money would be going directly to Fowley and others.
He put them in "boot camp" and was verbally abusive from day one, threw things at them while they rehearsed so they would get used too it if it happpened on the road, and hooked in a sleazy road manager who at 29 slept with all but one of them and had a relationship with 16-year old Currie.
Then things got really bad: drugs and alcohol, fights and factions . . .
As they note in interviews from the early 2000s, they were all girls from very different backgrounds who had little in common, and to hear them tell it they formed ever-changing cliques just like pre-teens in school. Then their periods synchronised so there were times every month when the air was explosive. The little lesbian flings by Currie with two others in the band can hardly have helped. There was also an abortion.
Interviewed now they reflect on all this with venom towards Fowley and others, and a degree of sadness that it all went so wrong when they actually made some good stomping rock'n'roll.
Drummer Sandy West (whose life after the band broke up in '80 sounds even more dangerous and on-the-edge) wishes they could all get together and tour again. But it is telling that Joan Jett didn't participate in this and that for the most part the former members are interviewed separately. There doesn't seem to be much love between them.
You suspect nothing would induce the still glamorous Currie and first bassist Jackie Fox (who cracked, tried to committ suicide then quit) to get back out there again.
And who could blame them? If your first contact with the music businesss was Kim Fowley -- who is interviewed here and makes you feel unclean -- then you'd be heading straight back to the boring suburbs as fast as you tried to escape them.
A sad story told with regret, anger and just a few flashes of pleasure, and not enough live footage to convey just how stonking they once were and poorer for the absence of Jett's voice.