Graham Reid | | 1 min read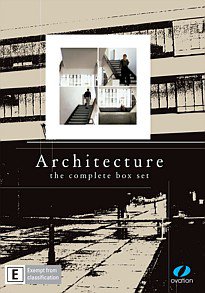 Although at a first encounter the narration to this series -- 29 major architects and/or buildings in separate episodes over five DVDs -- might seem a little dry and distant, you warm to it as the images take hold and the voice-over offers clear and informative commentary.
These episodes take the nature of self-contained films (character and period explored in relation to the work) and although Very Serious Architects may well wish for more detail, for those at Arch:101 or who are just curious, the broad sweep here is impressive -- and keeps you glued to the screen for night upon night.
There is some remarkable historic work here (the always breathtaking Alhambra which you get to see here without the tourist throng, the 19th century Palais Garnier opera house in Paris) but also those trigger-point buildings of the 20th century: the Guggenheim in New York (by Frank Gehry), the Yoyogi Stadium in Tokyo (Kenzo Tange), the Berlin Jewish Museum (Daniel Libeskind), the Johnson Building in Chicago (Frank Lloyd Wright), the Dessau Bauhaus, the Pompidou Centre . . .
The commentary doesn't shy away from criticism or comment which is more amusing for it flatness (that some of the teachers at the Bauhaus couldn't live with Gropius' austere design in their homes so painted walls and covered over windows).
Fascinating too are the less familiar projects such as Jean-Baptiste Andre Godin's grand, 19th century social experiment in communal living/work in Guise (to the chagrin of the neighbours), and the sleek Lyon TGV station.
Some of these buildings have aged and weathered better than others.

Given that architecture is the art and design form which most imposes itself on our daily lives, this series is an insight into how architects think, why shapes are as they are -- and how the planner's dream can sometimes not be matched by technology.
And sometimes of the human failings of those who are required to occupy their grandiose spaces.
Incidentally, this set is only $60 at JB Hi-Fi stores -- which probably qualifies it as a Bargain Buy.