Graham Reid | | 1 min read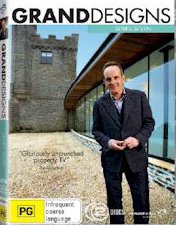 One of the most interesting aspects of this series in which various Brits -- mostly well-heeled, but a few not -- undertake building a home of their own design is how the people involved refer to the "the build" . . . as if it is something outside of themselves.
In most instances it is not: it is something which consumes their lives and bank accounts, sidelines any notion of a social life, relegates some to living in rude caravans or in cramped conditions near the site, and in a couple of instances has clearly taken its emotional toll.
"The build" can be a monster -- often two parts heroic and one pure folly -- which stretches out over a year and through bitter winters, and from which there can be no walking away.
It makes for great television though, especially when (as noted in the Elsewhere review of the previous serious here) disaster strikes.
In one of the seven programmes in this series frontman Kevin McCloud is about to speak to camera when there is a god-awful crash from the building behind: part of the ambitiously arched, unsupported roof built of hand-made tiles has just collapsed and we see the owner/architect with his head in hands.
Yet in this series there are fewer such disasters and, to be honest, there is less pleasure in seeing a monied-up gentleman farmer and his art gallery owner wife construct a magnificent home on their land which reflects the rolling contours of the fields and refers to the design of local barns. Beautiful though their home is, "the build" goes off without a hitch.
And even the eco-friendly couple who shift to Brittany to build a house out of recycled materials (tyres, scrap timber, bottle walls) are not confronted with vagaries of weather, a cash shortfall or truculent builders: in fact they offer food in return for weeks of hard labour -- and neo-hippies an Gaia-caring tradespeople from the UK beat a path to their door.
Their resulting house is also rather beautiful, despite McClouds (and my) reservations about bottle-glass walls.
So from crumbling follies restored to ground-up construction, this is more voyeurism for those on the couch at home.
But you really will be rooting for the architect whose roof caves in: he has a great sense of humour, a vision -- and in the end a magnificent home (see clip) unlike any other in Britain.
Note: this "series seven" differs in content from the "series seven" here on the BBC website. This is actually "series nine" of the television programme.