Graham Reid | | 4 min read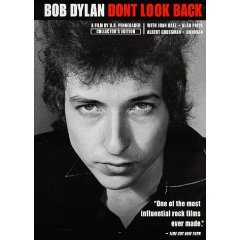 Fortysomething years ago the New York filmmaker DA Pennebaker received an offer he couldn't refuse -- and which would subsequently define the genre of rock documentaries, rockumentaries if you will.
The phone call came from Albert Grossman, the most important manager in music at the time after the Beatles' Brian Epstein. Grossman -- who later managed Janis Joplin, Todd Rundgren and The Band -- had a few folk and blues artists on his roster, but the one whose career he took the most personal interest in was that of the man who changed the course of popular music: Bob Dylan.
Grossman's call to Pennebaker came when the folk-styled Dylan had become a household name for classics such as Blowin' in the Wind, A Hard Rain's a-Gonna Fall, The Times They Are a-Changin' and Mr Tambourine Man.
Grossman invited Pennebaker to accompany them on Dylan's 1965 tour of Great Britain. As it turned out, this was the last time Dylan would be so unguarded and available. Within a year he had controversially hitched up with an electric band, alienated his folk followers, and become increasingly withdrawn and wary of the media.
Over the weeks in Britain, Pennebaker's cinema-verite style using his homemade handheld camera, captured Dylan and friends (notably his lover Joan Baez) in hotel rooms, at press conferences and rehearsals, and on stage. And the tough-minded Grossman negotiating appearance fees.
That film Dont Look Back (sic) set a benchmark for rockumentaries: the lack of narration, lingering shots of unguarded moments and revealing conversations, and footage of fans and hangers-on is a style adopted as recently as in Wilco's I Am Trying To Break Your Heart and Metallica's Some Kind of Monster.
Yet Pennebaker -- now 61 and with a career which has included classic rock films such as Monterey Pop (68) and David Bowie's last concert as Ziggy Stardust (73), and the political documentary The War Room about the Clinton campaign for the presidency (93) -- admits that when he followed Dylan he was unaware of what might happen or how influential his film would become.
"I simply went because they asked me. I knew I was going to have to pay my own way but I was going to get to make a film about something that intrigued me.
"Albert was wary of putting Bob at the centre of the public space and that's why he wouldn't let him go on television very often. In fact I don't think he ever let him go on television [in the US] at the time, only in England.
"Albert and Bob were smart and aware that movies might enter their world, so they wanted to find more about what it was like to take part in one. But they didn't want to go to Hollywood for 'The Bob Dylan Story'.
"I never thought about it the access I was having, I assumed I was making my film and they would just get out of my way. I didn't think I was getting any special treatment either, I was just being left alone, which also happened in The War Room."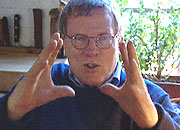 Pennebaker's career at the time was just starting: in 53 he had made the short jazz documentary Daybreak Express; and he had edited Primary about the 1960 race between John F Kennedy and Hubert Humphrey for the Democratic nomination for President. What he'd learned was that rather than having preconceived ideas of what to shoot, amassing raw footage from a number of cameras allowed the film to be created in the editing,
"Primary didn't get shown a lot but it got a reputation [that] amateurs can get what professionals didn't," he says, citing the Zapruder film of the assassination of John F Kennedy as also changing the way people considered film.
"We used 16mm and people in Hollywood didn't really know what it was, but in New York a number of people were starting to use it because it was readily available and inexpensive to process. We were imitating Italian filmmakers like Roberto Rossellini, just going into the streets and getting what life was like as opposed to what we saw in Hollywood films."
As a documentarian Pennebaker and his small, mobile crews continued to capture historic moments: Town Bloody Hall (79) was revealing coverage of a debate between a bullish Norman Mailer and feminists including Germaine Greer; Down From the Mountain (2000) covered bluegrass and country music in the wake of the Coen Brothers' film O Brother, Where Art Thou?; and last year's Al Franken: God Spoke charted the rise of the anti-Bush commentator Franken over two years.
Again, Pennebaker is modest: "There is always a centre of a storm and that is the most interesting place to be if you want to look at a storm. But I wasn't aware of that with David Bowie.
"I had a feeling about the impact of his music -- which came out of hanging around with Dylan. In my life up to 1965 popular music had been a descendant of jazz and occupied the time when you were at a workbench.
"But when Dylan got hold of music it became something important. People could treat it seriously, and that brought a whole lot of talent into the game."
Pennebaker is especially pleased the new Dont Look Back/65 Revisited set allows for more live performances from that remarkable period: "I left a lot of the music out originally because it was on records or you could go to concerts, but now those performances are stunning and charismatic."
Among the compelling concert footage is Dylan singing It's Alright Ma where in the pre-Watergate days his line "even the President of the United States must have to stand naked" elicits no roar from the reverent audience as it has done since the late 60s.
But these were different days, and in the extra footage is the good humoured Dylan with a prescient quote: "In a year from now I could be doing something different completely".
He was -- and popular music would never be the same again.
******
The Deluxe Edition of Dont Look Back/65 Revisited comes as a box set with a book of lyrics and transcripts, and a flip book of the famous cue card sequence of Subterranean Homesick Blues. In the extra footage there is a different version of Subterranean Homesick Blues filmed on a windy rooftop. It was the final take, the cards blew away.
This interview first appeared in the New Zealand Herald in May 2007 but is unavailable on the website www.nzherald.co.nz