Graham Reid | | 1 min read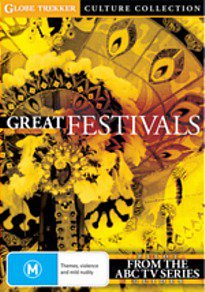 This two and a half hour, fast-paced doco is edited down from the popular Pilot Guide series in which the presenters (the very funny Ian Wright formerly of the Lonely Planet programme, Justin Shapiro and others) toss themselves into the middle of sometimes strange and remote places and see what happens.
The advantage this series has over many other such travel programmes is that the presenters are happy to show their discomfort, bewilderment or unease. Very little is airbrushed out, and they sweat or freeze in the way most others would prefer not to do as they sip cocktails in a Fiji resort and tell you how great the spa was. These people really travel and rough it.
For this edited-down special the scene shifts rapidly from the Santiago pilgrim trail through Spain to the Burning Man Festival in the Nevada desert (where no one is an observer, everyone is participant) to Las Fallas in Valencia where huge papier mache figures are set alight. It is satirical, says one the model makers, and "we burn what we don't like, like actors, pop singers, politicians, Hollywood players". So that would see Bieber and Berlusconi going up in flames, right?
From ancient Ethiopia to the Notting Hill Carnival via the oily men wrestling in Turkey, sheep shearing in New Zealand to deer wrangling in Taiwan and then off to ice-blown Russia is quite some head-twirling trip, but the snippets you see thrust you right into the fray and is a voyeurs delight.
Better though, this might give you some tips on what you want to do on your next trip. Wife-carrying in Finland anyone?
Like the sound of this? Then check these out.