Graham Reid | | 1 min read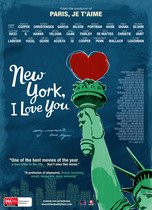 This compendium of distinct but sometimes overlapping slice-of-life stories comes from the same production team which presented Paris, Je t'aime. But here, rather neatly, they sidestep picking the most obvious "New York" writer/directors (Scorsese, Woody Allen, Larry David et al) in favour of those who bring a fresh, often immigrant, eye to the city that not only never sleeps but enjoys a love affair with itself.
These short and sharply drawn pieces traverse the city from Hasidic Jews to street hustlers (Ethan Hawke getting a brilliant and unexpected come-uppance from Maggie Q), from Chinatown (an affecting, missed relationship between an artist and a shopgirl) to a college student party in Tavern on the Green which has an unexpected twist from the girl in the wheelchair.
Twists are the norm here and while each separate story has love as its premise, love can take many forms.
The final piece however is the most irritating: Eli Wallach and Cloris Leachman as an archetypal old Jewish couple at Coney Island. But before that there has been much magic at work, although those expecting tourist shots or some glamorous settings of the Big Apple may feel shortchanged, this is about people more than place.
And it has to be said that it is sometimes a little self-congratulatory: "God, I love New York" is a line that need not be said if the director has done the work well enough. That belongs in Sex and the City.
That opinion is confirmed in one of the two shorts appended to the DVD release: Scarlett Johansson's written/directed These Vagabond Shoes with Kevin Bacon might purport to be a character study but it ultimately empty -- unless you want to watch Bacon eat a hot dog at great length.
The other by Andrey Zvgintsev is much more interesting. A young boy borrows a video camera from his dad and by chance secretly films from a distance two lovers breaking up. It is gentle and never feels intrusive or voyeuristic.
Yet, as with some of the pieces in New York, I Love You it serves to remind that any big city is full of small, deeply personal and often tragic stories and in that regard New York may be no different than any other.
What gives the city and this film resonance are those cross-cultural encounters and flashpoints.
A film of quiet magic and charm set against a city that can be brutal and unforgiving. Just the way New Yorkers like it.
Like the sound of this? Then have a look at this.