Graham Reid | | 4 min read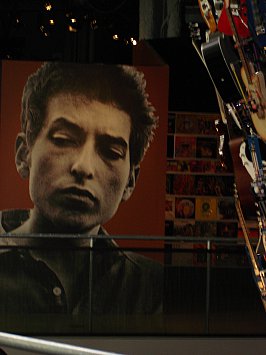 Against expectation, 2005 was a rare year for 64-year old Bob Dylan, especially since he hadn't had an album of new material out in four years. Yet Dylan seemed to be everywhere in 2005, and it announced his rehabiliation for casual listeners -- and prepared the ground for his critically acclaimed 2006 album Modern Times.
But in 2005 Dylan's influence -- for the first time in decades -- was evident in neo-folk and alt.country artists (from Devendra Banhart and Bright Eyes to Wilco and Will Oldham), and in former post-punk rockers getting straight with life (Chuck Prophet).
More than that however, Dylan -- once elliptical and reclusive -- seemed to be opening up. His autobiographical book Chronicles: Volume One published early in the year was an insight into crucial periods in his musical life.
He remained elusive about some things -- as you'd expect from a man who once described himself as "a mathematical singer" -- but in the previous two years Dylan had been helping put the formative, and revolutionary, early part of his career up for analysis.
The process began in 2004 at Seattle's EMP rock'n'roll museum. With stacks of memorabilia -- his high school essays, concert tickets, hand written lyrics, rare recordings and so on -- that excellent and exceptionally through exhibition entitled Bob Dylan's American Journey 1955-66 pulled together the many threads of Dylan's career during those turbulent years.
What Dylan assimilated, filtered and moulded into a unique voice were influences as diverse as Hank Williams' country music, Woody Guthrie's socialist folk, Buddy Holly pop, the political activism of the period, Pete Seeger, old country blues and Americana, the poetry of the Beat Generation, and a young man's desire to play rock'n'roll.
All this from a chubby-faced Jewish kid who had grown up in the culturally remote town of Hibbing, Minnesota?
By his very early 20s Dylan had been accorded the "spokesman of a generation" mantle and was retreating from it as fast as he had arrived. Three years later he was being reviled by folkies who felt betrayed by him playing electric guitar, and he was the subject of death threats. Audiences booed and abused him, and it wouldn't be the last time.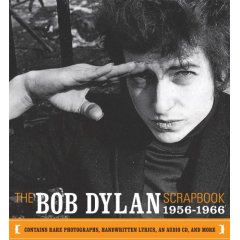 The Seattle exhibition was been extended until April 2006 and a companion book The Bob Dylan Scrapbook was been published. But while that tome with its reproductions of hand-written lyrics and so forth is interesting, Dylan fans -- and anyone curious about recent cultural history -- were drawn to Martin Scorsese's extraordinary DVD doco No Direction Home, unequivocally the best rock film of 2005, and certainly within the top five of all time.
It covered the same formative period as the exhibition and has rare and pivotal concert footage, and interviews with old lovers Suze Rotolo and Joan Baez, fellow travellers Allen Ginsberg and Dave Van Ronk, and disgruntled folkies like Pete Seeger who saw their connection with a new generation slip through their fingers.
Best of all it features recently recorded commentary from Dylan himself.
If Dylan has always seemed elusive then the times have a-changed. Here -- as in Chronicles -- he makes his case as an unapologetic solo traveller, reflecting with unsentimental insight, occasional humour and clarity on the times he lived through and influenced. As always however, his private life goes unmentioned.
Until now D A Pennebaker's film Don't Look Back was the most revealing document of that volatile period but Scorsese -- who uses Pennebaker footage and numerous other sources -- has crafted this almost four-hour epic which will stand as the definitive account.
No Direction Home effectively recreates the world the young Robert Zimmerman grew up in: a world of tent shows and carnie folk passing through, of Hank Williams' country and Johnny Ray's sobbing pop, of Muddy Waters and the remarkable voice of John Jacob Niles (the Antony and the Johnsons of his period).
All this gives context to the fat-faced kid who thought of maybe going to Westpoint Military Academy as his way out of Hibbing. Then he heard Woody Guthrie.
"You could listen to his songs," Dylan says, "and learn how to live."
And so his long journey began, first to the cultural crucible of New York's Greenwich Village.
Small facts spill out -- he sold only 2500 copies of his debut album -- and also big events such as when he sang Blowing In the Wind at the march on Washington in 1963 when Martin Luther King made his famous speech. Dylan was only 22.
Scorsese underscores how Dylan's early music captured the zeitgeist by playing A Hard Rain's Gonna Fall over footage of the Kennedy assassination.
Then everything changed: with increasing desperation we see Dylan recoiling from the shackles of others' expectations. He is often calm and even good-humoured as the insults fly (fake, bastard, traitor and, notoriously, "Judas"), but then becomes pale, reclusive and impenetrable behind shades.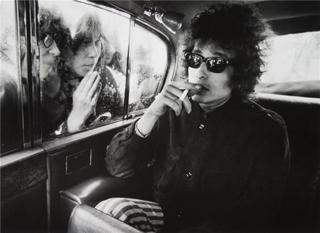 It was a remarkable career arc, and no other artist has gone from being so embraced to so reviled in such a short period. The motorcycle accident in 66, where the doco ends, allowed him to withdraw. He didn't perform live for nine years.
The few great rockumentaries are usually about artists under pressure rather than scaling great heights. But this one has both and, mercifully, Dylan doesn't attempt to rewrite his story.
The Scorsese doco arrived with a tie-in double disc, No Direction Home: Volume VII, and again Dylan's voice -- sometimes caressing as on the demo of Don't Think Twice, sometimes a howl from inside the hurricane as on Ballad of a Thin Man recorded on that controversial 66 tour of Britain -- is commanding.
But it was long ago in a very different world, one Dylan seemed to define and then courageously -- to reclaim the necessary freedom to be an artist -- denied.
And in 2005 -- when you might have expected him to be utterly marginalised -- that struggle still sounded relevant.