Graham Reid | | 1 min read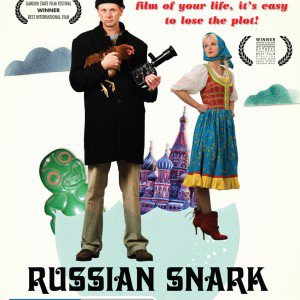 Although it would perhaps be possible to write the plot outline of this modest but quietly impressive feature on a very small piece of paper, the protagonists here and a few of the marginal characters bring such insightful portrayals that it keeps attention for all its 80 minutes.
First time feature director and writer Sinclair -- who co-wrote Ladies Night, worked with Peter Jackson and has previously only directed short films -- get a note-perfect performance out of Stephens Papps as Misha, a once-acclaimed Russian film director, who arrives in New Zealand in the late Nineties with his wife-cum-muse Nadia (Elena Stejko) in a tiny lifeboat. They are determined to seek a new life and a country more sympathetic to his artistic ideals.
As a film-maker -- and we see some of his intended work intercut with the main story -- Misha is pretentious, intellectual, singular in his vision and supported by the loving and long-suffering Nadia.
It gives nothing away to say Misha's dreams are quickly eroded and that Nadia finally cracks at the thought of having to support his self-belief yet again.
The story is less in the narrative than in the way it is told, through those small but accumulating blows which can be debilitating, and the conflict between an intellectual inner world and the rather more unforgiving or indifferent reality in which the couple find themselves.
There are numerous scenes where everything is said in an expression or sideways glance, and Papps masters Misha's stoic and stubborn persona as a man of few words but grand visions.
That redemption of a kind takes place in the context of loving, funny, generous but also slightly troubled Pacific family does seem a little bit of local cliche, but Stephanie Tauevihi as Roseanna (especially in her interaction with her "children") brings a ring of understated truth and naturalism to the character.
Misha is a dreamer -- and an unsympathetic and irritating one at that -- but as his frailties are revealed, to himself and the viewer, he becomes more a figure to be supported and helped than ostracised or condemned by indifference.
Russian Snark -- on DVD with no extras -- was nominated for official inclusion in a number of international film festivals in 2010 and picked up best international film at the Garden State Film Festival.
The ending may suggest some new awakening and insight, but the getting there -- like opening a series of Russian dolls -- is worth the journey for the characters and viewer alike.
For more on Russian Snark see here.