Graham Reid | | 1 min read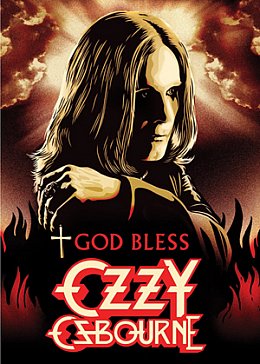 Given that Ozzy Osbourne is unnaturally candid -- as is his wife Sharon -- and that much of what he did is already in the public domain, the only real question that this up-close, thorough and years in the making doco fails to answer is . . . why does Ozzy appear on the cover in a drawing where he looks like he has stepped out of Twilight, The Crow or True Blood.
Ozzy is a unique character whose real-life notoriety hardly needed that kind of contemporary fiction referencing, and he surely doesn't need to be taken to a young audience. There can hardly been anyone under 25 who doesn't know of The Osbournes television series, the programme that showed teenagers everywhere it was okay to swear and damage yourself severely with drugs and alcohol, you still got to live in a huge mansion . . . even if you were constantly surrounded by dog shit.
This doco which follows Ozzy backstage as he traipses around the planet -- yes, we see him do his vocal exercises and on the exercycle, even though he doesn't seem to spend much time with either -- lets those around speak about what a screw-up he was in his heyday with Sabbath (his children from his first marriage say he was an absent father and always drunk), just how close he came to dying often (sleeping in the median strip of a motorway isn't smart) and how the death of guitarist Randy Rhoads affected him deeply.
Sharon points out that along the way Ozzy lost a lot of things, his first family, his best friend Rhoads, large chunks of his memory . . .
Ozzy is seen looking back on some of his Eighties MTV clips (he dismisses most, can't remember shooting others), is absolutely honest about his shortcomings (the attempted killing of his wife Sharon which he also can't remember) and the myths are trotted out for reconsideration. He is known for "biting the heads of bats" -- plural -- as one newsreader says.
We also get to see, albeit briefly, his oldest daughter with Sharon, the attractive actress and writer Aimee who didn't appear in that notorious tele-series.
However there's not a lot here that longtime Ozzy fans won't know, but for anyone wondering why all the fuss about Ozzy Osbourne -- a man who barely moves a muscle on stage these days -- then here is your answer.
In a world of people who would hide their shortcomings and prefer to garnish the truth in their favour, Ozzy Osbourne stands as a man who is brutally honest about himself . . . and you make of that what you will.
"I don't care," he says repeatedly.
And really, he doesn't. Except about the dog shit.
There is a pre-The Osbournes interview with Ozzy Osbourne at Elsewhere here.