Graham Reid | | 2 min read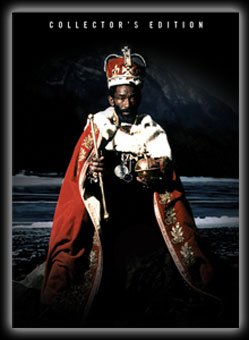 Salvador Dali once said "The only difference between a madman and myself is I am not mad".
That's the kind of pithy aphorism you might also expect from the mad production/musical genius Lee Scratch Perry, a man who redefined the possibilities of reggae, was in the vanguard of inventing dub (and therefore sampling, remixing etc) and was a crucial figure in the careers of Bob Marley, the Clash, Junior Murvin, Max Romeo, the Congos and too many others to mention.
The only difference between Dali and Perry saying that, is that Perry would have thrown in strange Biblical allusions, references to Haile Selassie, King of Kings, Conquering Lion of the Tribe of Judah and so on. Dali gets it in a sentence, Perry proves it by talking all day.
When Perry gets started on a rant there is no stopping his astonishing, bewildering and often utterly mad flow. But then over the long haul, as you hear in this often insightful and revealing 90 minute doco narrated by Benicio Del Toro, it actually all makes sense and there is a strange consistency behind it.
So mad? Perhaps -- and certainly at one point in his life he spun wildly out of self-control -- but a genius? No doubt.
The difficulty with making a doco about Perry's life therefore isn't in getting his cooperation, it is getting him to shut up, slow down and tell his story without the Biblical and space-mystic embellishments.
And that, surprisingly, is what the filmmakers here have also managed to do.
In the early part Perry tells the story of growing up in Jamaica, his passion for music (it came from stones, which sounds absurd but he makes you believe him) and then into studio work, being ripped off, then going out on his own to pursue a vision of music which others could barely conceive.
This is terrific background, so when things spin out of control at the Black Ark studio -- Rastas move in, there is more dope clouds than you can imagine, Perry slips out of control into rum, smoke and 24 hour days -- it makes absolute sense that one day the studio would be burned down.
Perry says he did it (others have suggested elsewhere it was an accident) in order to burn out the wickedness around him. That seems fair enough.
But truly, he was spiralling into a very strange place in a very different consciousness as the ample footage of his ranting shows. There are scenes here of strangeness, the like of which you will never have observed, as he rants and dances, conjures up gods and mystical figures . . .
That Perry survived all this to continue to work, and then end up in snowdrift Switzerland with a wife and children, seemingly in control -- but still with a thing for fire and ranting --is something akin to a miracle.
This doco is more than just about Perry however, it pins in the growth of reggae and Rastafarianism, the damaging street clashes in post-colonial Jamaica after independence in '62, those broken relationships with Marley and the Congos, and the importance of this man whose life seems to have enjoyed some kind of redemption.
Certainly there are gaps - the move and acclimatisation to life in Switzerland is passed over without explanation -- but this does go for a grand sweep in just 90 minutes.
Otherwise, essential viewing for those who care, or are curious, about reggae, Rastafarianism and Perry . . . but also for anyone with an interest in recent social history and the most extraordinary life of a man who lives between the secular and the spiritual worlds, both it seems, of his own invention.