Graham Reid | | 2 min read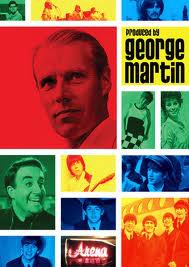 Sir George Martin's career will always be defined by the eight years he spent with the Beatles, but there were years before that 1962 audition and many decades after their final sessions in 1969.
A young and aspiring classical musician, he had been inspired the Warsaw Concerto ("I wanted to be Rachmaninoff II"), served in the airforce in the Second World War and won a place at Guildhall to study composition. His oboe teacher was Margaret Eliot, the mother of Peter and Jane Asher (the former to become half of the Beatpop group Peter and Gordon, the latter Paul McCartney's girlfriend).
An interview with EMI (whom he says he had never heard of) changed his life even though he still harboured ambitions as a composer, a far cry from producing records for The Goons, Roberto Inglez and His Orchestra ("His name was Bob Inglis, from Scotland"), jazz by Humphrey Lyttelton and novelty songs.
He liked that he could manipulate sounds in the studio, and that stood him in good stead for what followed.
Almost a decade before the Beatles turned up he was appointed head of EMI's tiny Parlophone label. He expanded the label's interest into more comedy and memorable songs (The Goons and Spike Milligan enormously successful, Bernard Cribbins, Rolf Harris) although admits it was through desperation because Parlophone was the poor relation which had artists like The Scottish Country Dance Association.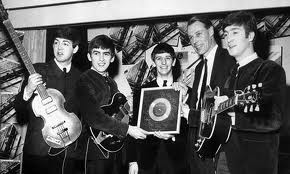 Then one day a band from Liverpool auditioned.
The 90 minute doco Produced by George Martin very gently and in a politely undramatic British way (driving the old car with his wife Judy, tea with Eliot) offers a personal as much as professional portrait as he is interviewed by his producer son Giles, chats with Ringo Starr (about the bombings during the war) and Paul McCartney (about the war, the early sessions and so on), Eric Idle, Cilla Black, Jeff Beck and others.
Martin admits that when rock'n'roll came around he was unashamedly ambitious -- he wanted to beat fellow producer Norrie Paramour who had hit big with Cliff Richard -- and that pop music was easier to make than comedy songs.
He thought the Beatles' music at the audition was "rubbish". Soon enough he was part of the team and excited by the possibilities of the studio. He says he felt a betrayal when the Let It Be sessions -- which he oversaw -- were given to Phil Spector and credited to him.
Of the album credits he says, "Why don't they say, 'Produced by George Martin, over-produced by Phil Spector'?".
But the Beatles are only the centrepiece in this long story, and what happened after is given equal weight. His arranging and producing (Jeff Beck's excellent Blow by Blow among them, the Police) was undiminished, his studio in the Caribbean on the island of Montserrat destroyed by a hurricane . . .
From a very modest background -- he recalls those years of poverty before the war, a background from which he changed his accent to sound like a BBC announcer ("he was a Cockney that talked posh", says Cilla) -- Martin has become the grand old man of British producers who tragically has lost enjoyment for music because of hearing problems which he dates back to the Seventies.
But he heard -- and produced -- many of the most important artists (and British comedians) of the 20th century.
Even if he'd just heard That Big One, his name would be writ very large indeed.
George Martin is interviewed at Elsewhere here. Giles Martin is interviewed here.