Graham Reid | | 1 min read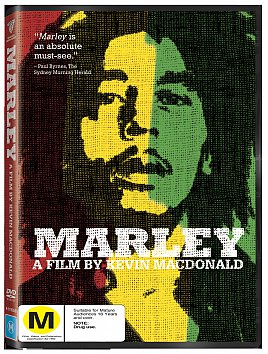 For many years – over a decade in fact – Bob Marley's Legend compilation was a massive seller in New Zealand, and many of those copies were on cassette. Lord knows how many copies were dubbed off during that time either.
It's popularity on tape was because people could play it in a car or on the ghetto-blaster at a backyard barbecue. And of course because it was an excellent collection of his chart hits.
But compilations never tell the full story of an artist, they are just the bullet-points, and Marley's career was so remarkable he deserves better than being reduced to just a handful of songs which get radio play.
Bob Marley has often been called "the first Third World superstar" and while that's true, the description also diminishes him while looking like paying great credit.
Marley was more than just a musician. As the world's foremost Rastafarian he was his faith's spokesman and frequently articulated it to an often bewildered world.
And although he never asked for the role, while not shying away from it either, he also became a political figure. In his lyrics and interviews he spoke for the oppressed and downtrodden, and most directly took on the mantle of political peacemaker when he got Jamaican political rivals Edward Seaga and Michael Manley together on stage at the One Love Peace Concert in Kingston in 1978. Two years later he performed at Zimbabwe's independence celebrations.
As with Muhammad Ali, Marley's fame was global and because he had come from poverty his was the voice the disenfranchised and oppressed could believe.
And then there was the music, the reggae that he defined and refined and became a symbol of.
So more than just "the first Third World superstar", Bob Marley was that rarity: a musical, religious and political figure of the kind the world had never seen, and hasn't seen since.
No cassette, no matter how much it is played and enjoyed, can hope to encompass that.
Which makes the biographical documentary Marley, by Kevin Macdonald – now on DVD/Blu-Ray – so important. There have been other Marley docos and profiles on television, and Timothy White's biography Catch A Fire is certainly worth reading. But Macdonald went for the grand sweep with previously unseen footage, new interviews and an attempt to locate the man in the middle of the myth and misinformation.
Macdonald said he asked himself a question and set out to answer it. The question was, "Why does he still speak to people around the world, because he clearly does, and why does he speak to people so much more profoundly than any other rock artist or popular music artist?"
Even those who might still dismiss Marley as just a famous singer with weird hair cannot deny that, for whatever reason, even 30 years after his death he is still a powerful musical, religious and political figure.
Marley the movie explains why.