Graham Reid | | 2 min read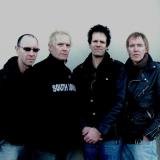 There's certainly something about Western bands going to China that makes sense.
Wham! going to China? Dance-pop and nice ballads? Yes.
The Rolling Stones in China? Okay, legendary Western decadent rockers, check the set list and let them through. Yes.
But, really? British punk band Sham 69 in China?
The band – now in their 50s – that sang If The Kids Are United and Borstal Breakout? The band that barely played a gig in the past 22 years without something fraught happening? The one that split with their lead singer Jimmy Pursey in 2006? That is the worst advertisement for British dentistry?
That is just . . . oh, strange if not ridiculous.
But when they got an e-mail a couple of years ago inviting them on a two week tour, how could they not go?
It read: "It's so famous punk band, chinese punk scene so young, some big cities like Beijing Shanghai has better live house, but other cities just a bar for the show, I think it's okay for play but must know about your band and your mind and think, if just choose big cities 4 or 6 or have full tour like 10 or 14. we try our best to work it for you. And here in China often go tour by trains. That's most infos here China. Cheers. Ray."
Tattooed and well-intentioned promoter Ray Gao of the Chinese punk band NoName managed to pull it off, although as you might guess the tour was not without it's problems. Not the least being the fragile relationship between a couple of the band members.
The doco This Band is So Gorgeous (the title from a comment a young Chinese punk girl makes) is narrated by the band's drummer Ian Whitewood and he veers between sometimes cliched observations ("It's like Oxford Circus on acid, an alien race rushing headlong into a chaotic future") to the astute: "A police state fueled by a free market economy [saying] it's beautiful to be rich but don't forget who owns you. Margaret Thatcher's dream".
Before they embark on a tour described as grueling (half a dozen dates in 14 days?) we get telling glimpses of them at home. New singer Tim V in the band since 2007 and formerly of punk band Class War looks like any ordinary fat bloke in a cafe in Milwall, and bassist Alan Campbell says he'd been in the UK Subs for 12 years and had all but given up on music until he joined in 2009.
He says he is still feeling his way and avoiding what buttons to push and that "the tour is a baptism of fire, for them as well as me".
Needless to say this proves to be true and it isn't too far into the tour before relationships become fractious. Tim says he "wouldn't go to a soiree at [guitarist] Dave Parson's house because we 'ave nuffing fuckin' in common".
The compliments paid them by young Chinese punks are unintentionally hilarious: they called "an old band", "punk seniors" "living fossils but also a milestone" and "[your drummer] is like my grandpa".
Singer Tim's left-wing beliefs are tested but he adopts an increasingly bellicose attitude (" punk's not for hire, fuck 'em. I don't give a shit") but you wonder just how much of what they say – in interviews or song lyrics – is actually understood by their audience, despite the translations. When one young punk mentions that her boyfriend has told her 69 is a sexual position things get slightly uncomfortable and she rapidly say "Thank you, goodbye".
But at other times the camaraderie between the band and the fans is sweaty and palpable.
Any rockumentary like this (filmed by former Chumbawamba singer Dunstance Bruce) invariably ends up somewhere between Spinal Tap, Anvil, an episode of Grumpy Old Men and I'm a Celebrity Get Me Out Of Here.
There's some sad and pathetic when, two thirds the way through this very short tour (which admittedly does cover some distance, albeit in the comfort of trains), Ian says, "another day, another hotel. I need a haircut".
Although the observation that as soon as you have more than one person in a band you have trouble, rings very true.
It's a curious doco as much for who they are as where they go, but stick around for the band statements after the credits.
They might make you weep.
With laughter.
SCREENING TIMES FOR THIS BAND IS SO GORGEOUS
Auckland (Q Theatre) - 14th April @ 8:15pm; 19th April @ 11:30am
Wellington (Reading Cinemas Courtenay) - 12th May @ 8:15pm 17th May @ 12pm