Graham Reid | | 1 min read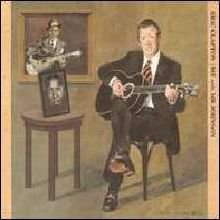 When Eric Clapton released his 2004 album Me and Mr Johnson – a tribute to Robert Johnson – it seemed rather belated. After all, from the time he was a teenager he'd been listening to Johnson's songs and transported a number of them into his various bands and albums over the following decade.
Ironically then, when he went into the studio with his cracking band – which included Billy Preston, drummer Steve Gadd, Doyle Bramhall II from his touring band -- a Johnson album wasn't on his mind at all. But in the absence of any new material he reverted to a catalogue he knew intimately.
The resulting album received mixed reviews and was uneven, on some songs he gets right under the skin (Hell Hound on my Trail), others seem polished and far removed from their earthy roots.
Later that year a CD/DVD set emerged Sessions for Robert J and it included footage from the studio where Clapton and the band jam on this material (some of it white-knuckle and exciting, there's an electrifying If I Had Possession Over Judgment Day). And – impressive in itself – Bramhall gets considerable solo space, and there are some lovely acoustic duets between him and Clapton.
You are also reminded again what a loss Preston was when he died two years later.
In interview segments Clapton speaks of how he and a friend Clive started to go back from Buddy Holly, Elvis and others to find the roots of rock'n'roll and ended up with Johnson who blew them away.
He describes himself at 15 as a "very arrogant, moody, pseudo-intellectual" which went along with his image of himself. Johnson came across as an isolated, despairing character and Clapton, as "a deliberate loner", identified with him.
He also doubts the whole pact-with-the-Devil story but notes that Johnson was also an entertainer and clear.
The 100 minute film Sessions for Robert J (Sky Arts Channel, Sunday July 14, 8.30pm) also shows how effortlessly these musicians can play this music. There appears little in the way of what we might call rehearsals, just getting levels right, picking the song and . . .
Sweet Home Chicago just grooves and soars. They are "in the pocket" as the jazz players say.
Beautifully filmed, punctuated by humour (although everyone is pretty damn serious) and chock full of superb playing, Sessions for Robert J is the kind of music doco which achieves both intimacy and awe.
A real treat is when he and Bramhall decamp to a rundown room in Texas which was where Johnson recorded some of those few songs which were so influential on a generation of British guitarists in the early Sixties.
If you are an aspiring guitarist this will either inspire you . . . or make you consider a career in retail.