Graham Reid | | 2 min read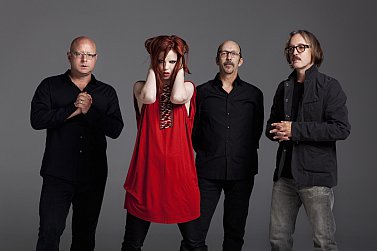 The thing I remember most about interviewing Shirley Manson from Garbage is that I just don't remember much at all.
I have recently been told it was probably in '97 and I know that it was in Melbourne. But the rest is slightly foggy. The friend who reminded me of the year was there too and says I turned up at Auckland airport very late and hung over (me?) and because everyone else had already boarded I was nudged into business class.
We were in Melbourne to interview Manson -- I may have talked with drummer Butch Vig too, not impossible -- in advance of some New Zealand shows I think and I spoke to her on a couch in some record company office.
I do remember thinking she was rather more charming and coquettish than her somewhat fiercely Scottish advance reputation suggested but after that . . . nothing.
Except a few of us went to a bar then got the plane back to Auckland later that night. I saw them in Auckland and loved them.
Garbage were one of the more interesting bands of their era and I suppose Vig's reputation after having produced Nirvana got them over a few hurdles. But their meltown of electronics and driving pop-rock seemed effortless.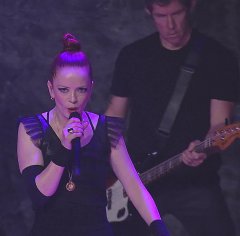 To me they were like the Pretenders with electrobeat bits and samples. Just one great song after another . . . and then they just sort of went away.
Their first two albums -- the self-titled debut of '95 and Version 2.0 three years later -- were brittle, often absrasive and sometimes heart-aching grunge-era pop-rock, and their singles like Stupid Girl came with interesting remixes or non-album tracks so you always felt they were worth getting.
I missed a couple of those reunion albums but they have really thundered back into attention in recent years with a new album Not Your Kind of People last year followed by a lengthy tour. There is even talk of another new album.
There is also this enjoyably loud concert film One Mile High filmed before an enthusisatic crowd in a small theatre in Denver. It screens on the Sky Arts Channel, Sunday August 4, 8.30pm and captures an implausibly tall Manson (waaay taller than she seemed that day in Melbourne, but then what would I know) thoroughly enjoying being back on stage.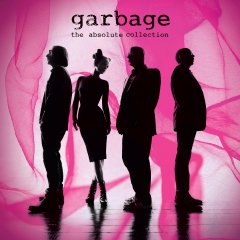 It is a thrillingly intense film -- it's 90 minutes -- and a reminder again of what a great catalogue of songs they have: Why Do You Love Me, Queer, Stupid Girl, Special, Milk, Only Happy When It Rains . . .
This is a band which has managed two excellent compilations, the more recent Absolute Collection of last year, and the track listings are different.
The more recent favours, naturally, material from their last albums and in concert those songs have a firepower and gravitas that was the hallmark of some of their early material.
And in concert you can see Manson -- "Aunty Shirl" as she refers to herself at one point -- unleash her inner Patti Smith . . . and it is powerful. At the end they even throw in Because the Night.
Garbage -- a rock band that got to samples, remixes, electronica and hip-hop while others were just head down and banging out grunge-by-numbers -- were one of the great bands of their era and in this film, where Manson paces the stage in anticipation between songs, you get the measure of that.
After seven years away they prove they still have something to offer.