Graham Reid | | 2 min read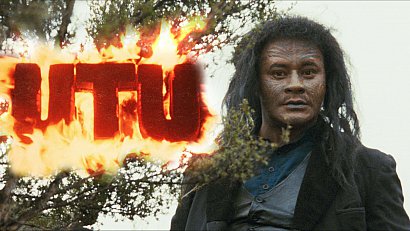 New Zealand landscapes lend themselves to the visual and emotional language of film: the black sand shore of The Piano; the towering Southern Alps inhabited by horsemen and warrior orks in Lord of the Rings; the menacing glower of sky and mountains in Vigil; the glimmering beauty of the East Coast in films like Boy and Whale Rider . . .
And landscape was a visceral character in Geoff Murphy's original Utu of the mid Eighties. But here was a dank and dark land, an unforgiving place of rain and mud and remoteness, a land that worked against the colonising power but was understood by the Maori.
Set in 1870 -- three decades after the Treaty of Waitangi had hoped to create an accord between the British Crown and the indigenous people -- Utu was a film with a powerful narrative of rage and revenge, a cycle of blood for blood, which starts when troops massacre the Maori inhabitants of a tiny and remote village.
When a Maori guide for the soldiers (Te Wheke played with physicality and seething violence by Zac Wallace) comes upon the scene he turns against the invaders and rallies a rebellious force of Maori to take back their land and drive out the pakeha (colonising foreigners).
At times akin to a classic Western and at others fearful in the manner of Soldier Blue, Utu was, and is, a powerrful -- if flawed -- film.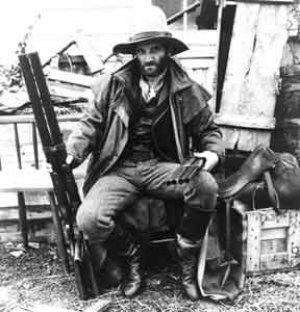 Now recut and visually remastered so the mud clings and moko lines on Te Wheke's face are scarred like permanent tears, Utu Redux can be a thrilling and frightening experience.
There is dark humour throughout (the gentle notions of different humour is plucked at) but at heart it remains the same film, utu/revenge drives not just Te Wheke but the increasingly mad settler Williamson (Bruno Lawrence, right) whose wife has been killed by Te Wheke's raiding party.
There are fundamental problems however which also remain: the young soldier Lieutenant Scott is an unfinished and unconvincing character (and played by a very wooden Kelly Johnson which undermines him even more) and themes are often hinted at then abandoned.
A pivotal character Wiremu (Wi Kuki Kaa, beautifully understated) seems underdeveloped early on but Kaa brings the character into the foreground in the closing scenes.
But there is no denying the power of much of this extraordinary film which appeared at a crucial time in New Zealand's race relations: both the Springbok tour and the occupation of Bastion Point, as well as the rise of Nga Tamatoa, had made many New Zealanders rethink the relationship between the races.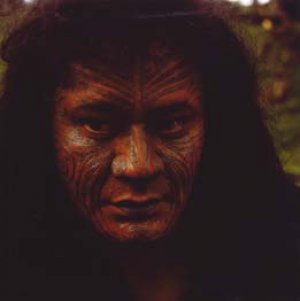 If some of the characters are mouthpieces or cyphers rather than people, it is hard to forget the scenes when Te Wheke looks at brown and white skin and makes a decision, when he enters the church and slays the purse-lipped minister then addresses the mute Maori parishioners (10,000 Maori on the streets of Auckland at that time is an image to conjure with) and of course the battle sequences full of fury, noise and random death.
The climactic scene -- where another form of utu will be delivered -- may seem staged and awkwardly Shakespearean (fitting perhaps given Te Wheke learns from a battle strategy Macbeth ealier on), but it also condenses the plot threads, pulls together divisions (but usefully allows them to remain unresolved) and addresses a conflict with Maori themselves.
It is Wi Kuki Kaa's Wiremu who owns this tragic scene, the same character who earlier had said to the young New Zealand-born lieutenant that, like him, he wanted what was best for the country.
That each of them meant that in a different way is the emotional and political pivot of an important film, now given new life after 30 years.
Utu Redux is in selected cinemas nationwide for a short season from November 21.