Graham Reid | | <1 min read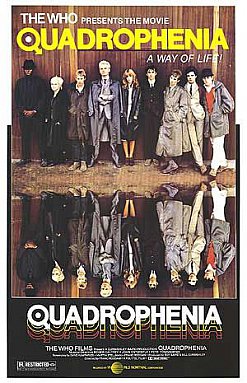 Quadrophenia -- the story and music written by Pete Townshend of the Who -- shifted the focus back to pre-Beatles Britain, to the world of Mods and Rockers, of battles on Brighton Beach between the two, and Townshend's famously disenchanted lost boy at the centre of it all.
This was a dark world of early British pop culture that cheery Beatlemania erased from memory and it took the Who's Townshend to revive it.
The film was made in 1979, just as post-punk bands such as The Jam were spurring a Mod revival. The original album had been released six years earlier.
Oddly, it wasn't a world Townshend knew intimately -- the Who had been a "Mod band" as the High Numbers for a very short period between 1964 and 1965 -- but he captured universal teenage disillusionment better here than he did in the overblown Tommy which, for all its cynicism, was a kind of redemptive rock'n'roll opera.
Quadrophenia is more melancholy, more grim -- and it probably gave Sting his best screen part. He barely speaks a word, if at all, he just looks good. But as Jimmy, the central character discovers, that isn't everything.
Townshend has always said he preferred Quadrophenia to Tommy and you can see why.
It's a darker ride.