Graham Reid | | 2 min read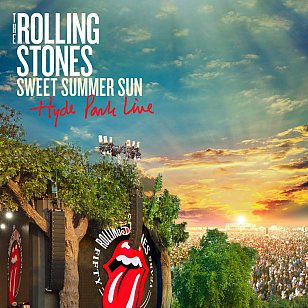 Recently a music blogger asserted boldly the Stones had never done a decent version of Satisfaction live which – unless he'd seen the thousands of Stones shows since mid 65 – illustrates the folly of mistaking a live recording with a live performance.
Which is why the two hour film on this double CD/DVD set is so important. It's not a live concert just a film of one, but it takes you that much closer to the performance, and Mick Jagger is nothing if not a performer of music.
After playing their first Glastonbury festival, the Stones had two concerts in London's Hyde Park, almost exactly 44 years to the day since they last played there, just two days after the death of former member Brian Jones.
That legendary concert – Jagger in his frilly dress reading Shelley, hundreds of white butterflies released (many had already died in the boxes) and the first appearance of guitarist Mick Taylor as Jones' replacement – was captured on the film Stones in the Park and even today it has sense of dark occasion.
And when the Stones went back earlier this year to play for what Keith Richards and Jagger call their home crowd, there was a similar sense of significance. The Stones were still celebrating their 50th anniversary – the date being slightly flexible – and while it's been fashionable to dismiss them the capacity, cross-generation crowd (teens girls to balding graybeards in headbands) which sang along with Start Me Up, It's Only Rock'n'Roll and Jumpin' Jack Flash had no such reservations.
Of course this was concert as commodity with merchandising, massive side screens, a soundsystem and huge stage that were unknown in the late 60s.
"It's another world," says Jagger. "Having said that, I'm still doing the same thing more or less," he laughs. Then the footage cuts to Honky Tonk Woman and Jagger camping it up in something like that frilly dress again.
There's a swagger, humour and humanity about the band as cheerleader Jagger whips the crowd up, his frame so ridiculously skinny he could get blown off stage by the power chords coming from Richards and Ronnie Wood.
The footage picks up fans of all ages who have Stones tats and t-shirts, some terrifying close-ups of the road-worn faces on the stage, and footage on those enormous screens.
New song Doom and Gloom polishes up well in the context of familiar hits, Richards gets the spotlight with the acoustic You Got the Silver and Happy, Charlie Watts says a crowd-pleasing "Hello", and they are joined by Taylor again who gets player-of-the-day for his spot on Midnight Rambler.
The DVD here is a beautifully shot concert event (with inserts from 69 and commentary by the band and Taylor), the double CD of the music is for cranking up over summer.
And Satisfaction?
Not quite as thrilling and economic as at the Civic in March 66, but not bad at all.
For more on the Rolling Stones at Elsewhere (including film, book, music and concert reviews) start here. To find material on the individual Stones use the "search" funtion.