Graham Reid | | 2 min read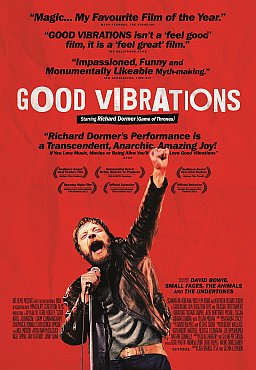 Those of us lucky enough not to have lived in Northern Ireland during the period the Irish euphemistically refer to as "The Troubles" could never know what that must have been like.
Sectarian division and violence, roadblocks and checkpoints, assassinations and bombings, intimidation and factionalism . . .
As John Lennon put it, "if you had the luck of the Irish, you'd be sorry and wish you were dead".
It must have been horrific and even today – when an uneasy peace sometimes exists – you can see the depth of this deeply divided country on the walls of Belfast where mural to martyrs, iconography which keeps live centuries old divisions and slogans speak to upcoming generations.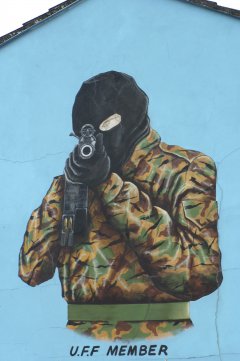 It just takes a further downturn in the economy and the lodges will be filled with the young and angry, and the marching will become even more violent and confrontational.
Northern Ireland is a beautiful country blighted by history, and those Troubles of recent times still resonate even of the old voices of Ian Paisley and the like are now fading.
But the recent trial of Gerry Adams reminds us how raw and recent the wounds are.
These facts need not worry you in the film Good Vibrations set during the volatile and terrifying late Seventies because they are largely off-screen if referred to much at all.
This is not the story of those times but rather a bio-pic of a singular – and often drunk it seems – individual named Terri Hooley who chose to open a record shop God Vibrations (and later a label of the same name) in Belfast and try to bring the goodtime music he loves (folk-rock, hippie stuff, the Stones) to people mostly running for cover.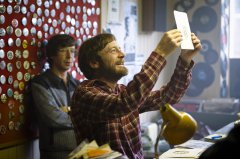 As played by Richard Dormer (Games of Thrones), Hooley is part inspiration, part lunatic and a man for whom music holds a redemptive power.
Unfortunately for him – as his business slides into insolvency – it isn't the music he loves which has the power, but the emerging punk movement which he encounters and finally succumbs to. Bands with names like Rudi and the Outcasts – whom he records – are speaking to the kids more than his old-fashioned music.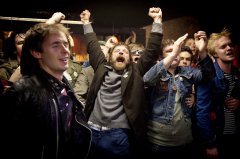 Good Vibrations follows Hooley's path to punk, him recording the Outcasts and the Undertones' Teenage Kicks ( a song he sold for a song to Sire so he could record more Outcasts), the personal price he pays and . . .
Yes, there is a feel good ending to a film about an alternative Ulster which mostly too neatly sidesteps the violent context of its setting.
But the music is strong (the soundtrack reviewed here is quite some mishmash as you might expect) and it does shine a large light on a small beacon during very dark days.
Good Vibrations opens in selected cinemas around New Zealand on Thursday June 12
.