Graham Reid | | 2 min read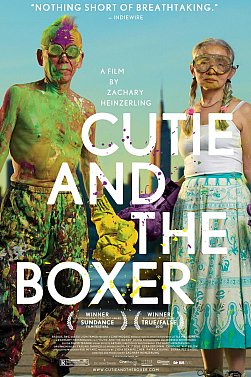 Cantankerous, alcoholic, irresponsible and so convinced of his own genius that he saw his wife Noriko as a lesser person there to serve his artistic and emotional needs, there's not a lot to like about painter and sculptor Ushio Shinohara.
When he arrived in New York from Japan in the Sixties he was a child of the Tokyo avant-garde and his style of painting which we might call Abstract Pugilism -- he took to the canvas with boxing gloves dipped in paint -- was a remarkably physical and visceral style that seemed very much in tune with the times.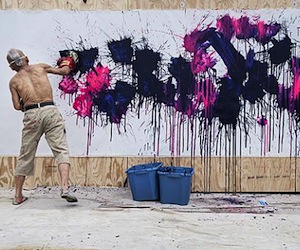 But when this onion-peelling doco opens it is his 80th birthday and the couple are living in their leaking warehouse surounded by his rolled up canvases, the detritus of decades and a kitchen that would have health officials reaching for the smelling salts.
He is the boxer, his wife (the more interesting character for her quiet firmness which is established very early on) is the Cutie of the title, named for her alter-ego in the pointed and sometimes barbed cartoonlike paintings she makes which tell her side of their life story . . . but one which also grows to become like an independent voice in the narrative of their lives.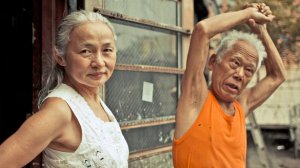 Long-suffering might be one way of describing Noriko/Cutie as the film unfolds and we get glimpses back to when he would rail against the world in a booze-fuelled self-pitying fury while ignoring the needs of her and their young son (who we see as an adult as attached to the drink as his father).
His art has gone under-appreciated, his sculpture unsold and his life is so dedicated to art and his self-described genius that it seems all a self-indulgent waste.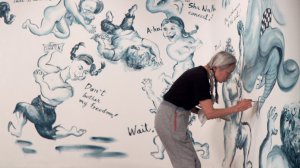 But there is a greater story being told here, a strange love story of companionship and compassion delivered by Noriko who was a 19-year old art student when they met (he was 41) and who has belatedly flowered as an artist in her own right.
The arc of the doco takes them to a joint exhibition (along the way the Guggenheim show interest in purchasing one of his admitedly impressive boxing paintings) and even grumpy old Ushio seems forced to admit they are equals . . . although you suspect he will go to his grave never quite believing it.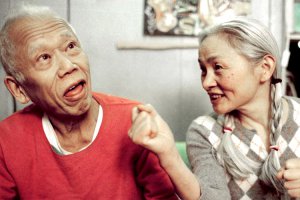 This is a compelling story of the passion and sacrifices required to make art against the odds, of love when your partner is a polar opposite and of artistic work which, at its best, is a reflection of a life devoted to creativity.
Although the couple have lived in New York for many decades they mostly speak in Japanese through these subtitled 80 minutes which won Heinzerling best director at Sundance in 2013, and saw this engaging film in the official selection at the Melbourne, Sydney and New Zealand film festivals.
Many, especially feminists, will rightly have their own view of a relationship which seems so skewed, but Cutie can hold her own in the ring with the boxer, that's for sure.
.