Graham Reid | | 3 min read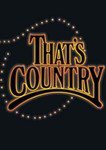 "Tell me, how come a city I've never heard of – Christchurch – in a little country way down the bottom of the world makes the best country music television show in the world?"
– American country legend Roy Acuff to That's Country host Ray Columbus.
It's often said television brings the world in to our living rooms, but with videos and DVDs the past can come to us also.
The past you hold in your hand is of That's Country, the high rating entertainment show which screened on TVNZ in prime time on Saturday night . . . and was sold into America.
These selections from some of those shows – seven series filmed in the James Hay Theatre, Christchurch between 1976 and 1983 – bring that country music of the past into your living room. And with it comes not just great songs (Desperado, It's a Heartache, Your Cheatin' Heart among them) but sequins, hairstyles, mustaches and fancy frocks.
In recent decades the alt.country movement – country-influenced singer-songwriters who grew up with rock music – has gained a large share of attention, but in the Seventies our country musicians were first and foremost entertainers, getting hands clappin' and feet stompin' by presenting traditional and pop-country songs.
These entertainers "sell" a song. Look at the lively rockabilly/rock'n'roll segment here (which reminds you one of the roots of rock'n'roll was in country music) or how Maria Dallas literally kicks off her shoes and takes her sandpaper voice through her classic hit Tumblin' Down.
And if anyone thinks country music takes itself too seriously then check out the Topp Twins who poke fun at country, a music they love and have been loyal to.
"Country is fun music," says host Ray Columbus as he reflects on the Topp's appearance. "They'd come in a heartbeat and it's a gem of a performance. I love that."
And what a roll call of great New Zealand country talent is here: Patsy Rigger, Jodi Vaughan, Noel Parlane, Red McKelvie on pedal steel, Brendan Dugan (one of the great country singers of his generation), Brent Brodie, Jade Hurley, Tony Williams, Tom Sharplin, Jimmy Hill (former drummer in Columbus's Invaders) with Bobby Bare's Pour Me Another Tequila Sheila, Suzanne Prentice, guitarist Peter Posa on White Rabbit – his number one hit – making the difficult look effortless . . .
Great names, great entertainers.
Country music has rarely been fashionable – but That's Country was certainly popular. It always rated in the top three programmes, and it came about because the people spoke.
"Tom Parkinson was the head of entertainment," says Columbus, "and I was under contract to South Pacific Television to provide up to seven [entertainment] specials a year.
"The year before I had a series called Columbus Discovers . . . and Columbus Discovers Country rated through the roof. It was so popular Tom asked me to host a whole series."
Columbus knew of the difficulties he would personally face: "Once when I was an arrogant young pop star on [the entertainment showcase] Studio One someone performed a country song and I said something like 'I hate country and western'. That haunted me for a long time with country'n'western clubs."
But he suggested the series be a broad-based variety show with high production standards and feature all the "sub-species of country, like country-rock, country-blues, country-pop and bluegrass -- and we would find great songs in those genres".
He also insisted the shows open and close with every artist – locals and internationals – together on stage ("very showbiz") and then, with Gray Bartlett, started looking for songs.
"It was Gray who suggested the song Country Cookin' as the theme, and it was perfect."
Columbus went to Los Angeles where he was the guest of Jo Walker Meador, the executive director of the Country Music Association, at the American Music Awards (on his table were Glenn Campbell, Olivia Newton John, Roy Rogers and Dale Evans). Through Meador he gained access to the big names in American country.
"I told Jo that in New Zealand we were very good at doing television, and we were. By the time I left town the CMA recommended George Hamilton IV and that got the series going."
American stars appeared on That's Country: Emmylou Harris, Ed Bruce (who wrote Mama Don't Let You Babies Grow Up to be Cowboys, wrote and sang the theme song for the television series Bret Maverick and appeared as the sheriff), the Bellamy Brothers ("lovely guys but out of it on something, they were so slow"), Boxcar Willie . . .
The show took off in Nashville when an edited version from the series ran three times a week on the Nashville Network.
Columbus was invited to train country stars in Nashville how to work on television and one night backstage at the new Opryland he met the legendary godfather of country music Roy Acuff . . . who asked, "Tell me, how come . . ."
"It was the only time New Zealand television had sold a series to America," says Columbus. "I believe a similar series now would be as big again.
"And this DVD will put life back into country music in this country."