Graham Reid | | 1 min read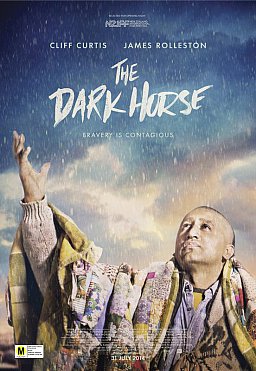 That this film should have picked up so many wins at the NZ Film Awards will come as little surprise. Taking nothing away from the excellence of the acting and directing, there were few other serious contenders -- What We Do in the Shadows? Please! -- and it is also a feel-good film which has mainstream appeal.
In fact, one friend called it "Karate Kid with chess" which was rather cruel, but funny and contained a kernel of truth.
The Dark Horse won best film, best director and best screenplay (for James Napier Robertson), best actor (Cliff Curtis), best supporting actor (James Rolleston) and best score (Dana Lund).
It was ahead of the rest of the small pack but what also separated it -- and this is perhaps also a great measure of its appeal -- is that it's based on a seemingly improbable but true story. And it is a story of triumph over adversity by someone most of us had never heard of previously.
It's also about the game of chess . . . and that could be a hard sell to mainstream audiences, if it weren't for the wrap-around story and the central, bipolar character of Genesis Potini (Curtis) who was a chess genius but spent time in and out mental institutions.
That he is released into the care of his estranged brother, a gang member (played with palpable menace by Wayne Hapi) just adds to the layers which accrue around the story.
And then there is the small but aspiring chess club that Potini founds, and him -- against considerable odds -- taking the local kids to a tournament in the big city, well away from their rural hometown. Lots of fishes out of water in this story.
All these elements are juggled astutely in a story which is frequently grounded in the brutal realism of the Maori gang life and the despair of mental illness. That director Robertson manages to inject flashes of humour keeps the story arc from being a simple Karate Kid with chess.
Aside from the bruising screen presence of Hapi and his affiliates, the film belongs to Curtis and the young Rolleston (as the chess playing son of Ariki who is about to be inducted into gang life): the former putting on weight for his shambling and often distracted character; the latter played with youthful sensibility and confusion by the young man who came to fame in Boy.
The Dark Horse -- the tagline for which is "Bravery is contagious" -- is a life-affirming film (out now on DVD and Blu-Ray) and very deserving of the praise and awards heaped upon it.
So, not Karate Kid with chess at all really.
But I did leave the cinema thinking I'd really like to see a film about Maori families which didn't involve gang members.
Ironically the next I saw -- which also stars Rolleston in a very different role again -- was this.