Graham Reid | | 2 min read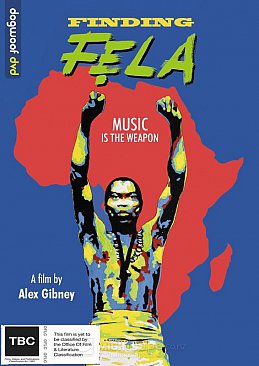 Early on in this in-depth two hour documentary about the life, music, cultural impact and legacy of the Nigerian lightning rod Fela Anikulapo Kuti, the director/choreographer of the Broadway musical Fela! Bill T. Jones says, "this is hard medicine for our era".
He's not kidding.
Fela's willingness to stand up to the repeated assaults, imprisonments and harrassments from the Nigerian military and police in Lagos during the Seventies and Eighties is the stuff of legend (and makes a mockery of online protesters). But less characterised are his attitude to African women. A woman can be president of a country, says Fela in one piece of period footage, but at home her man can kick her arse.
And then there was his attitude towards gay men which sometimes didn't stop short of having them wiped out.
If the Broadway musical sidesteps the latter and makes oblique reference to the former, less so this doco by the award-winning film maker Alex Gibney, whose previous work includes We Steal Secrets (about Wikileaks), Enron; The Smartest Guys in the Room, The Armstrong Lie (about Lance Armstrong) and most recently a doco on Scientology.
Gibney has a bit of form in music docos too: Jimi Hendrix, the Scorsese series on the blues and he's just done one on James Brown.
Originally Gibney intended to make a doco about the cast of the Broadway production's trip to Lagos to perform in the late Fela's Shrine, but the more he looked at Fela's life -- the son of a powerful and political mother through to his death from Aids-related illnesses in '97 -- the more he realised the whole story of Fela needed to be told.
He first encountered Fela's music in the Seventies (as did I) but didn't quite get the greater cultural context in Nigeria. Like me, in all honesty.
So -- interweaving footage of the off-Broadway rehearsals as the production team and cast grapple with how to present Fela the man as much as the music -- he tapped the vast wealth of archival interviews and concert footage, shot interviews with Fela's children (Femi, Seun, Yeni), managers, fellow musicians (notably Tony Allen, the co-creator of Fela's distinctive Afrobeat) and others to present a more rounded picture of powerful, courageous, complex and flawed man whose funeral in Lagos drew a million mourners.
He also stumbled on rare footage of Fela's spiritual advisor Professor Hindu who was both magician and charlatan. Those scenes are astonishing, as is the visual reconstruction of the raid on Fela's compound which lead to the death of Fela's mother.
Fela Anikulapo Kuti was a magnetic character but also a seriously flawed individual and this film makes few concessions to that.
It is -- aside from those interpolation of the Broadway show -- a fairly straightahead and chronological account of the man's extraordinary life, but it is no hagiography and so is the better for that.
That said, it does -- like that Broadway show -- pull its punches on some aspects, notably Fela's anti-gay stance (but it does put producer Jones, a gay man himself with Aids, on the squirming spot about the issue he chose to all-but ignore).
You may come away with mixed feelings about the man and his morals, but you will certainly be considerably better informed about Fela's life as well as having a greater political context for the music . . . and the extra features which include expanded interviews add extra breadth that even two hours can barely encompass.
There is more about Fela Anikulpo Kuti at Elsewhere starting here, and an interview with Adesola Osakalumi who plays him in the forthcoming Fela; The Concert at the Auckland Arts Festival here.