Graham Reid | | 1 min read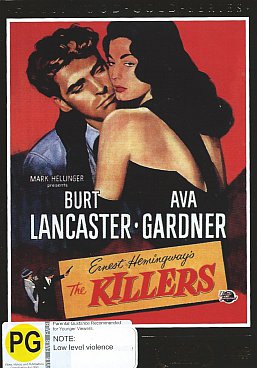 Of all the great film noir movies of the Forties and Fifties, few have the cachet and longevity of The Killers from '46.
Based in part on a short story by Ernest Hemingway, the great Burt Lancaster in his first starring role, the radiant and steamy Ava Gardner as the female lead, music by Miklos Rozsa, an intelligent and adult story told through flashbacks (like Citizen Kane and Sunset Boulevard, the latter appearing a few years later), superb lighting, the corrupt world of boxing . . .
The Killers has it all, and was nominated for four Oscars at the time.
Even now it stands as an exemplar of the filmmaker's art, from the opening scenes where two hoods (one of them William Conrad who became Cannon on the small screen decades later) arrive at the diner in a small town full of menace and purpose. Their job is to kill the Swede (Lancaster) who works across the road at the petrol station and lives in a small boarding house nearby.
Although warned by a fellow worker of the killers' purpose, the Swede simply goes to bed and awaits his fate . . . which comes with stark lighting contrast when the hoods burst in and the flashes from their pistols briefly illuminate their faces.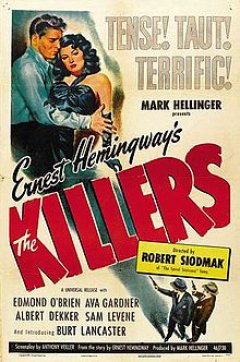 And from there we fold into the backstory of the doomed Swede, a former boxer dragged into the underworld, imprisoned where he hardens and who, on release, has been involved in a robbery where he was about to be double-crossed. So he grabbed all the loot and fled.
The Killers is at one level the story of a good man gone bad, but the Swede is also a complex character, a fatalist drawn down by the lure of money and passion for the gangster moll Kitty (Gardner).
It was also German director Siodmak's finest noir film (a genre he specialised in while working in the States at that time), made a star out of the solid, brooding Lancaster and paved the way for more complex narratives in films because of its structure, storyline full of double-crosses and its dark, dark heart of lust, greed and death.
The Killers in now available on DVD and Blu-Ray.