Graham Reid | | 2 min read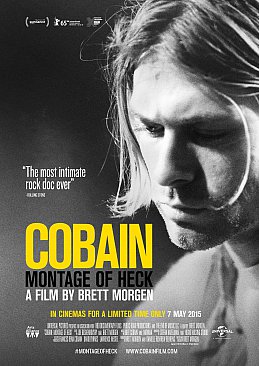 In the final third of this sometimes uneven but always fascinating two-hour documentary about Kurt Cobain there is considerable previously unseen home footage.
There we see Cobain, his wife Courtney Love and their baby Francis Bean Cobain (an executive producer on this authorised doco) playing happy families.
It is worrying for a couple of reasons: Cobain and Love are clearly in the throes of their heroin addictions. But just as concerning, here is a couple who have professed to shun the spotlight of fame but are hamming it up for their home footage in a way which suggests they've fallen for the allure of constant third-party attention, albeit from the home video camera.
That this footage has come out doesn't seem to phase Love – looking heavily made up and well, if slightly slurry in a contemporary interview for this – and probably wouldn't have surprised Cobain who, from early days as we see, was part of the generation which grew up with handheld cameras in the family.
That there should be so much available footage of Cobain as baby and child is one of the endearing features of this film (consider, there was none of his hero John Lennon) because here we see the happy wee boy playing and laughing just like so many other kids.
Then it all goes wrong: when he is seven his parents separate, he is bounced between them (his dad here looking stunned, his new wife with fixed mask of cheerful but helpless concern about what happened) and so the child became a morose and reclusive teenager. Although not always because here again we see him sometimes laughing. He looks like a normal teenage boy in fact.
But as the film shows – mostly through his drawings, some of which are cleverly animated – Cobain was a mass of inner turmoil who took to weed and was saved by the music he loved and then created. Some of his diary entries and drawings are quite disturbing, but again perhaps no more so than any other confused teenage boy.
This is a film about Kurt Cobain, not Nirvana although their shadow is inevitably large in the second half, and so the focus is on family members (his mother eloquent but tweaking the story to her advantage) and we see his first girlfriend interviewed about their increasingly troubled relationship.
Nirvana bassist Krist Novoselic appears (but not Dave Grohl who was apparently interviewed subsequently, perhaps to appear in DVD extras) as do friends from that pre-fame period. They speak plainly and tell their truth.
When Nirvana forms however the tone changes, the inner anger manifests itself in physically self-destructive behaviour (some might say on-stage passion but the risk of serious injury was very high) and then . . .
Then the money comes in, the pressure rises, the spokesman of a generation tag is hung around his neck (if only Bob Dylan had taken him aside and said, "Son, . . .") and Cobain becomes reclusive, detached and often effectively mute in interviews.
Then Love appears, so does heroin, there is more damaging behaviour, Francis Bean arrives, tabloid headlines scream the kid is born a junkie, the authorities question their fitness as parents (you may too when you see that home footage, although FB is clearly loved), there is the OD in Italy and then . . .
The film stops a month before the awful ending.
Throughout we hear Cobain's music – demos, home recordings and live stuff, much of it previously unheard like his cracked but moving version of the Beatles' And I Love Her.
And most of all in Montage of Heck we hear Cobain's his voice, sometimes his own and sometimes diary readings by an actor.
The result – through super-8 footage, drawings, diaries, interviews etc – is a much more clear picture of happy child who became a troubled boy and, as man, seemed to articulate and channel the rage and confusion of his generation.
And, in case we need reminding, a gifted artist who wrote and played some of the most durable, intense, articulate and personal rock music of the past six decades.
For that reason alone this is a film very much worth seeing.
Cobain: Montage of Heck opens in New Zealand cinemas on May 7 for a limited period.
For more on Cobain, Novoselic and Nirvana at Elsewhere see here.