Graham Reid | | 3 min read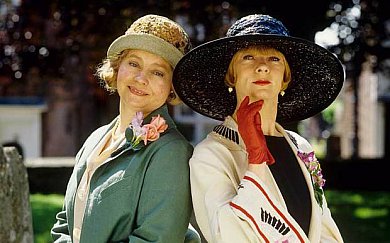 There is a wonderful tradition of English fops, snobs and upperclass twits. And from Oscar Wilde through Bertie Wooster to Monty Python, Margot Ledbetter on The Good Life and recently Downton Abbey, there's a rich vein of humour to be milked from it.
In the wake of Downton's recent success, it's no surprise therefore to see the "Mapp and Lucia" stories of E.F. Benson resurrected for television.
These stories from the 30s take their generic title from his characters Elizabeth Mapp and her house guest Emmeline Lucas (aka Lucia). They are gossips and gold standard snobs, and have been revived for a new three-part BBC series set in the imagined town of Tilling.
Benson – who died in 1940 aged 72 – didn't have to do too much imagining about Tilling, it's a barely disguised version of pretty little Rye in England's south east where he lived from 1918 and served as mayor from 34.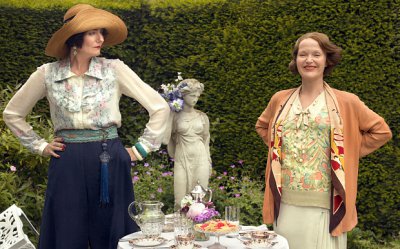 He donated a magnificent stained glass window to the town's St Mary's Church and his home, Lamb House, had previously been the home of the author Henry James who is commemorated with a plaque at the entrance.
Benson had his own commemorations with the 10-episode Mapp and Lucia television series in the Eighties (with Prunella Scales and Geraldine McEwen) which were filmed in Rye and nearby Winchelsea. And now the characters roll around again in the BBC adaptation with Anna Chancellor ("Duck Face" in Four Weddings and a Funeral) and Miranda Richardson ("Queenie" in Blackadder) in the titular roles.
The three-part series -- which screens on New Zealand television, dates below -- was filmed in Rye, but also a number of scenes in and around Lamb House to which they were given exclusive access.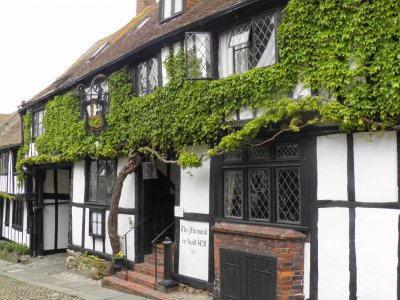 The ancient walled city of Rye is a living movie set with its picturesque streets, cute homes with odd names ("The House Opposite") and 75 percent of the quaint houses are under heritage protection orders.
Their sagging timbers deny straight lines and in summer the window boxes blaze with bright flowers.
There are eccentrically named shops like The Runcible Spoon cafe, Simon the Pieman and The Gandhi Tandoori, the latter outside the walls. Of course.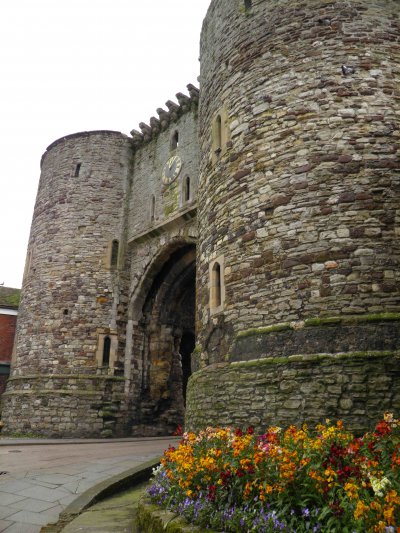 Inside those centuries-old walls Rye is pretty, prissy and inward-looking, and you can see why Benson found it a rich source of material.
The painter Edward Burra who was born there called it a "Tinkerbell town" before he fled for the brighter lights and darker doings of Paris and New York.
Today Rye has a population of just 4000, Sir Paul McCartney has a home and recording studio nearby (20 years ago he lead the successful campaign to save Rye Hospital from National Health cuts) and the quaint town doesn't allow visible satellite dishes.
That means when it comes to filming there it's just a matter of closing the street to traffic and it looks just like the Thirties.
The nearby beach was used for scenes in the George Clooney and Matt Damon film The Monuments Men a few years ago.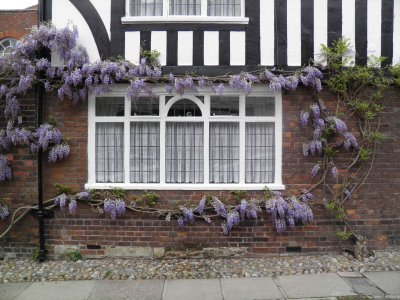 The Rye area is ludicrously photogenic and the town a perfect backdrop for snobbery on a grand scale as Mapp and Lucia try to outdo each other.
Benson's satirical stories are all very snooty and English, people are "bothersome" and most were born with a silver spoon in their mouth to round the vowels. They are stereotypes but no less funny for that, and they get to act out their pettiness, poisonous politeness and oneupmanship in the lovely town of Rye.
Upperclass English snobbery is back, and as witty and waspish as ever.
The Battle of Hastings took place nearby, but if the battle between Mapp and Lucia in Rye is nowhere near as bloody, it's just as determinedly fought.
Mapp & Lucia: Sky Vibe channel, Monday, May 25, 8.30pm