Graham Reid | | 3 min read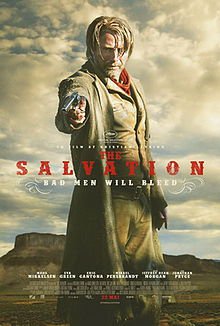 Only those with limited imagination would see the Western genre as just being something about horses and gunplay.
Certainly those elements may well be there – I prefer my Westerns with both, more of the latter – but the genre is as wide as the skies of Montana.
Within "the Western" there has been scope for the clash of cultures (Native American v settlers, cattlemen v sheepmen, increasing urbanisation of land and so on), as well as notions of man alone, families or explorers on the frontier, lawlessness in the face of encroaching codes of social behaviour . . .
There have been Westerns where the horse is being replaced by the automobile, where the riches of the land are ripe for exploitation as the railroad points an arrow across the landscape, where injustices of race, sex and age are central to the story, and . . .
Blazing Saddles, of course.
In many ways The Salvation by Danish writer/director Levring -- a man prone to probing the darkness of life – is a traditional Western: there is a revenge motive which drives it and a clear delineation between good protagonist and evil antagonist.
But around the periphery of that central story – and even within the characters, some of whom are Shakespearean in role and motives – there is much more going on . . . and it is beautifully shot with South Africa standing in for the wide open spaces of what could be Montana.
Without effort, Levring makes visual references to John Ford's Stagecoach and his framing of John Wayne in The Searchers, a moonlit sky which alludes to the mysterious light of the German painter Caspar David Friedrich, a climax which brings to mind High Noon, Gunfight at the OK Corral and Clint Eastwood's High Plains Drifter . . .
This a Western with horses and gunplay, but so much more in terms of characters shaped by their environment and the sudden violence which propels the central character into action.
It is America in the 1870s and two Danish migrant brothers and former soldiers Jon (Mads Mikkelsen) and Peter (Mikael Persbrandt) have established a home in the remote hinterland after fleeing their homeland in the wake of its defeat in a war with Germany. They have been there for seven years and are standing on the platform waiting for Jon's wife and young son.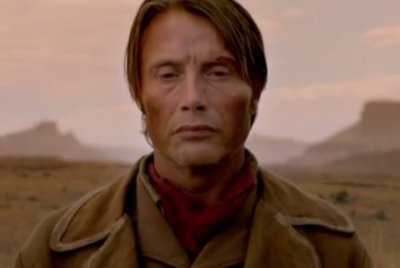 But the long overdue reunion is short-lived as an act of appalling violence sets Jon (Mikkelsen, right, at his stony-faced and emotionless best) seeking revenge which he exacts with clinical precision.
And this is just the first 10 minutes . . . because the consequences of that action spiral out of control.
Jon has killed the brother of a ruthless gang leader and land-grab baron Delarue (somewhat of a caricature by Jeffrey Dean Morgan) who tells the subservient local townspeople they have to present him him with two citizens for blunt execution unless they can find his brother's killer.
And so these good God-fearing folk find two reluctant candidates (are you feeling the Shakespeare?), but then Jon the killer is located, dragged off for slow execution by Delarue . . .
Jon's escape with the assistance of his brother – and you can guess he's not long for this world either – leads to his painstaking revenge against the townsfolk who have betrayed him, the gang members and inevitably Delarue.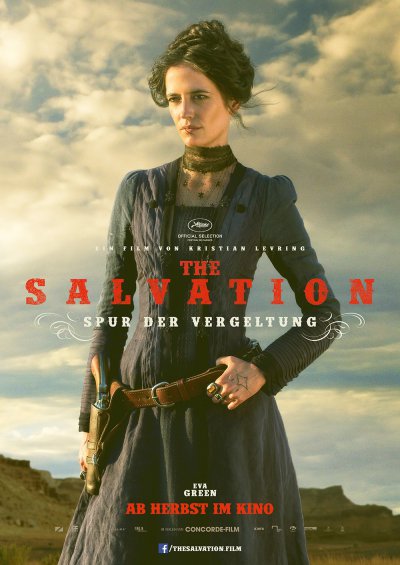 But there is also more in this layered story because Delarue's brother was in possession of a mute temptress wife known as Princess (Eva Green, right, who smolders as if she has been beamed in from Game of Thrones), there is corporate greed at stake because the land grabbers are sitting on "black sticky oil" which may be poisoning the wells but could just be worth something . . .
The ending is a cop-out (but many in Shakespeare were too when he just needed to get the players off the stage) but this is about the getting-there . . . and then the camera pulls back.
The subtitle of this gripping Western-cum-morality/mortality play is "bad men will bleed".
Well, in this often tense and harrowing tale of death, vengeance, greed and the most base of motivations and human emotions, of course they will.
But director Levring who wrote this Anders Thomas Jensen makes sure some good people do too.
After all, that's what is was like in the lawless West . . . and in many of those dark, contemporary Scandinavian tele-series and crime novels so popular these days.
In fact this is a Western which might just appeal to those who have been taken down into the darkness of men's soul by Werner Herzog's early films and Henning Mankell's Kurt Wallander novels.
But if you are Old School and just want horses and gunplay, the The Salvation – the title bleakly ironic – also delivers.
With a vengeance.
The Salvation is available now on DVD and Blu-Ray.
Elsewhere proudly has an alarming number of reviews of Westerns, some classic and some overlooked. Start your reading/viewing here.