Graham Reid | | 1 min read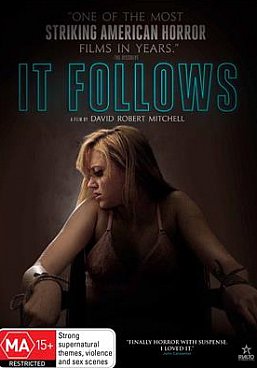 In his latest novel You Don't Have to Live Like This, the American writer Benjamin Markovits has his central character Marny move to Detroit, the city notorious for being abandoned by its industries and citizens.
From its heyday with automobile factories and Motown providing work and cultural focus, Detroit has become a city of gap-tooth streets where people have walked away from homes and so buildings — some of them once beautiful civic structures — have fallen into disrepair.
Fitting then that it should have also been the setting for Jim Jarmusch's vampire film Only Lovers Left Alive, it provides the backdrop as a city of the dead where the undead walk.
And as with Only Lovers, this film by David Robert Mitchell – also set in Detroit – has seemingly anachronistic juxtapositions: the young people go to a beautiful old cinema to see the Audrey Hepburn/Cary Grant movie Charade ('63), people watch black'n'white films on televisions but have iPads, cars are classic and well maintained, there's a Fifties-styled diner but elsewhere the cityscape is run down . . .
In many ways this film has a familiar slasher-flick premise: A young girl pays the price for a sexual encounter . . . but the chills come from the fact that menace can be just about anywhere in this landscape. Because "this thing is going to follow you" she is told by the boy who has just passed it on to her when they had sex.
The thing goes undefined and could come at any time, and anywhere. It is invisible to others but takes on various human forms for her . . . and it follows. Whatever the "it" is.
Writer/director Mitchell – with assistance from a cast of unfamiliar faces, photographer Michael Gioulakis and music by Disasterpiece — creates a genuine thriller-cum-horror flick because the threat is so undefined and can appear at any moment.
But to do what?