Graham Reid | | 1 min read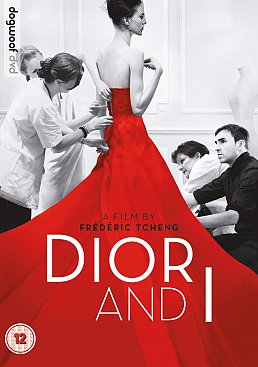 Even if by the end of this 90 minute documentary you are no wiser about his personality or even exactly what it is he does, you will perhaps still be persuaded that Raf Simons is a rare visionary and quite possibly a genius in his chosen field.
That field is in fashion design and in 2012 this Belgian -- who had been known largely for his minimalist menswear -- was appointed creative director for Christian Dior.
Although never mentioned in this portrait of his first haute couture collection for the company -- which Simons pulled together in a matter of two months while the cutters and others were also working to fill important standing orders for valued clients -- Dior had been in a trough after the debacle of John Galliano's drunken anti-Semitic outbursts the previous year.
Simons had a number of challenges, not the least his French was poor, he was an utter unknown (other than by repute) and often, as this fly-on-the-wall film shows, he wasn't exactly communicative or even want to help with the necessary publicity for his showing.
He also had quite extraordinary ideas for the catwalk show which seemed more akin to the world go Louis XIV (to say more would spoilt the sheer delight) and . . .
And he looked back to classic Dior designs of the Fifties for inspiration.
He was almost inviting a comparison he could not win.
And yet . . .
Throughout we also hear readings from Dior's diary about his own showings and the old master appears in period footage, a presence in the house under whose gaze everyone must work.
Much of the success of Simons' showing goes to two remarkable and patient seamstresses (and their teams) who juggle his ideas and standing obligations with extraordinary calm.
You need know little about the fashion industry or even much care for it, but this "behind the seams" look into that world brings it all home in a beautiful collection which added allure and lustre to the label and the fashion house.
Very good soundtrack too . . . but really , it is all there in a collection of clothes which are pure works of art and design.