Graham Reid | | <1 min read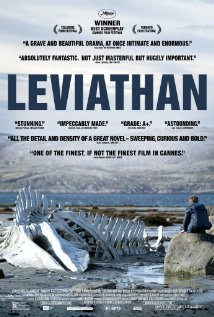 The titular beast from the depths in this bleak and sometimes depressing masterpiece only fully reveals itself in the final half hour, and it's not that on the cover of this DVD.
In a remote fishing town on the Berents Sea in the far north of Russia, Kolia (Oleg Negin) is trying to save his auto-repair business and rather lovely old house from a compulsory acquisition which the mayor in helming with the muscle of both his office and the local hoods in his pay.
Kolia, his young second wife Lilya (the somewhat mysterious Elena Lyadova) and his teenage son from a previous marriage are the helpless pawns in a larger game being played out in a way they simply have no knowledge of. So even when Kolia enlists the help of a former army buddy-turned-lawyer to argue his case there is a grinding inevitability to his fate.
But worse awaits along the way when relationships sour, the local thugs run his lawyer out of town and friendships are sorely tested.
All this is played out in a wash of vodka, against a natural landscape that is bleak and unforgiving, and in large mayoral chambers or the Church which are oppressive in the weight of their history. And indifferent to Kolia's fate.
With music by Philip Glass, this is a dark parable -- with allusions to Thomas Hobbes' 17th century treatise of the same name -- about the corruption of power and its hapless victims, and in its own way is a very different kind of Russian realism.