Graham Reid | | 1 min read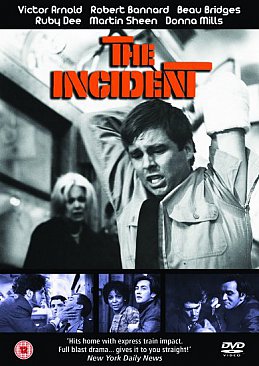 This exceptionally taut black'n'white drama from 1967 is one the great cult films, not just for its undeniable filmic qualities but the fact it was for so long unavailable on DVD or, to the best of this writer's information, never screened on television. Certainly not in New Zealand.
The screen debut of Martin Sheen and Tony Musante (as two hoodlums who take over a New York subway carriage at 2am and terrorise a diverse group of passengers), The Incident is a model of character studies drawn in the sparest of dialogue (the various passengers whose backstories before they get on the train we see only briefly) and illustrates how evil can reign when decent people let it.
Although released in '67, the film was based on an earlier screenplay so retains the feel and look of the early Sixties when swishback Dion was a star and the Beatles had yet to arrive.
As the two drunk and violent thugs, Sheen (as Artie) and Musante (the more disturbed and disturbing Joe) wield a screen power full of menace and sudden acts of violence. And as they progressively exploit the weaknesses of the various passengers (mostly couples, but of various ages and backgrounds) you can feel the force of their obvious numbers slowly eroded.
A dozen people up against two thugs? The odds are surely stacked in the passengers' favor.
But that is the art of the writer Nicholas E Baehr and director Peerce who never let the tension drop, nor give any opportunity of collective empowerment to the passengers.
Among them are Beau Bridges (in one of his first adult roles) as a young soldier, Brock Peters as an angry black man who is only too happy to see whitey under threat (then the thugs' attention turns to him) and Donna Mills as the virginal young woman whose greaser date lets her down when she too is threatened by the thugs.
Matters of homosexuality and race are addressed along the way, heroes are hard to find and right at the end a subtle message is dropped in as the passengers finally get off their nightmare ride.
How the terror ends is well worth the white-knuckle journey in a tough film which is deservedly a cult classic of its era.