Graham Reid | | 1 min read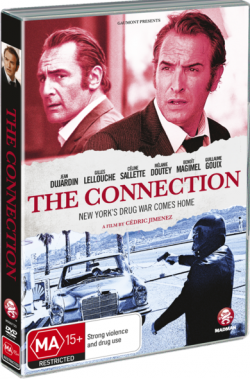 The French title of this drugs'n'crime thriller largely set in Marseilles in the Seventies is the clue: It is La French.
Add that to the English mistranslation and you get the link, this is a stylish-looking flipside and companion to the classic French Connection of '71 in which the story goes back to the source of the drugs pouring into the US which Popeye Doyle (Gene Hackman) and pals were out to halt.
With heroin coming in to Marseilles from Turkey in increasing volumes, the gang -- headed by the cool but ruthless Gautan Zampa aka Tany (Gilles Lellouche) -- almost has more of the stuff than it can handle, so business is good for this outfit with long-established links in that corrupt city and with the Corsican Mafia.
This business is a generational one with loyalties locked into place.
The man sent to break the chain and the gang -- which seem impossible to get a bead on because they are so smart -- is the new police magistrate Pierre Michel (the rather suave and familiar Jean Dujardin).
Initially Michel seems driven but frustrated by the lack of progress from his predecessors, and in the role Dujardin comes off as rather too cool and poised for a man whose very job places his life in danger. Problemmatically also, he goes through the whole film with no police protection, which -- given this is based on a true story -- seems highly unlikely.
But once the story takes off this -- all in French with English subtitles -- becomes a gripping drama, a cat'n'mouse game as in The French Connection, and a cast of shrewd crooks who always seem one step ahead of Dujardin and his team.
There's a reason for that, of course.
And because this is based on actual events (as was The French Connection) real life doesn't offer the tidy narrative arc which fiction can. Bad stuff happens to good people, and vice-versa.
The Connection is a very fine companion to The French Connection (although you need not have seen that award winner, it stands in its own right) and is filmed with an eye for the beauties and seedy sides of that port city which even today is a nest of vipers.
For some viewers it won't have as much blood letting as they might expect from a gangland drama (it is brains and psychology alongside the thrill of the chase) but it makes for a quietly compelling two-plus hours and both leads grow in emotional depth and frustration as the nets variously close and open around them.