Graham Reid | | 2 min read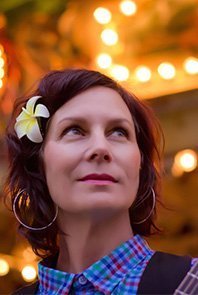 This charmingly low-key, often movingly honest documentary about New Zealand singer-songwriter Donna Dean takes her from a childhood in a state house in Glen Innes under blue Pacific skies (she ackowledges the drinking and violence between her parents) into Texas clubs and bars and radio stations singing her distictive and mature country music to appreciative audiences.
Dean and her small band -- Jane Clark, John Egenes, John Dodd -- make music grounded n traditional country, an influence which came through her seaman grandfather (who taught himself to play his handmade lap steel after hearing the sound in Hawaii) and her guitarist mother who loved the honest stories in country music.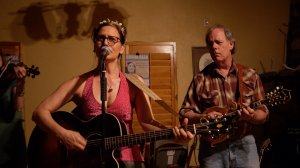 Dean tells of her life and music quietly, with a logical clarity and endearing honesty, and throughout this film there songs peppered which pertain to the story she is telling of growing up, and the music which surrounded her and family ("I kinda loved my Dad but feared him at the same time").
Her childhood sounds brutal. The booze caused mayhem -- "You just don't get in the way otherwise you end up on the receiving end as well" -- and her mother toughed it out with help from pills and alcohol. And music.
Dean speaks of running on adrenalin because the kids would always be waiting for something to explode. Her songs like Twister unflinchingly address these things in a poetic manner.
Filmmaker Morris keeps the focus close, clear and simple, the result being not just Dean's story but that of experiences shared by many in those suburbs where the post-war generations struggled.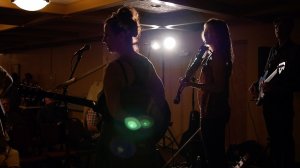 And in many respects Dean -- left school at 15, pregnant at 16, in a violent relationship herself which she says she chose "because it was familiar" -- seemed destined to repeat the pattern, and fell into drink herself.
Her song Dangerous at this point is incredibly moving.
Rehab and songwriting saved her. "The floodgates just opened."
Her first gig was at the Gluepot in '89 and when people listened to her, she was hooked. She went to a songwriters convention in '96 because she believed in what she was doing. That self-belief kept her going, then there was recording and international touring, awards and nominations in country music followed, she played with some of her heroes (the Amazing Rhythm Aces among them), the American bluegrass singer Rhonda Vincent covered one of her songs as the title track to her Grammy-nominated album . . .
The travelogue aspects of the narrative which wrap around all of this -- finding new fans at house concerts and small bars -- is also fascinating, again for its unpretentious nature.
Anyone who has been through those parts of Texas -- thrift shops, service stations, corner bars, deserted wide streets of small towns -- will feel a glow come off the screen.
But at its heart -- although ostensibly following her on a tour -- The Sound of Her Guitar is a remarkable story of the redemptive power of music and of Donna Dean's willpower, songs and generously forgiving and sometimes matter-of-fact spirit.
An understated and insightful documentary about a New Zealand artist -- and her remarkable life -- more of us could do with listening to.
Donna Dean has long been an Elsewhere favourite, see reviews and interview here.
And see here for Bill Morris, the filmmaker and damn fine songwriter too.
The Sound of Her Guitar screens on Maori Television tonight, 8.30pm